What is a lounge bar?
A lounge space is a space designed to be comfortable and welcoming. It is a space of relaxation arranged for the comfort of the people who stay there. It can be a lounge, a terrace or a bar.
Discover some tips for creating a lounge bar, so that your customers feel perfectly at ease in your establishment.
A lounge bar is a bar that offers a cosy atmosphere, i.e. an atmosphere that makes you want to relax. This muted atmosphere comes from the design of the furniture chosen as well as the lighting, not forgetting the background music.
Must-have lounge furniture
The most important thing when creating a lounge bar is to choose the right furniture for your setting. Professional furniture you choose must be of high quality and design. The furniture in your establishment must be chosen with care to create a lounge area.
In this article, we will mainly give you advice on how to create a lounge bar through the FAZ range from the Vondom brand. This range is ideal for lounge bars thanks to its design and quality.
Lounge bar counter
One of the most important pieces, if not the most important, is the bar counter.
For the counter, we recommend a modular lighted bar. As said before, to have a lounge area, it is essential to pay attention to the light. An LED lighted bar allows you to diffuse subdued light, which gives a warm and intimate look to your space.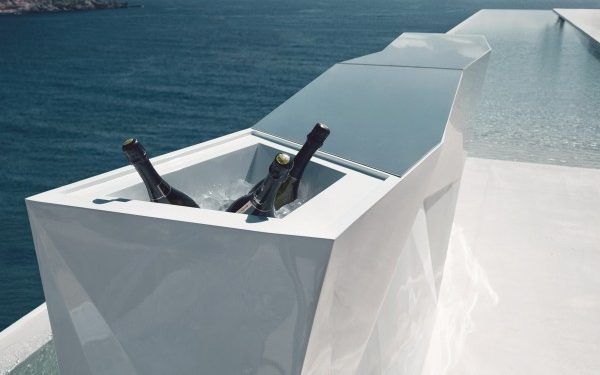 The FAZ bar modules are multi-functional and can be assembled as you wish to create THE bar counter of your dreams for your establishment. Thanks to its multicoloured LEDs, which you can choose the lighting (fixed or random), the illuminated FAZ bar brings a warm and pleasant atmosphere to your bar.
Made of polyethylene (matt or lacquered), it is easy to clean and resistant to UV, weather and especially to shocks. It is a professional design furniture ideal for the interior or exterior of bars, restaurants, etc.
You can add several options such as an integrated ice cube tray, a stainless steel protection top, interior shelves and a set of 8 wheels with brake.
The FAZ illuminated bar counter is lit by integrated LEDs that can be controlled remotely with a remote control. You have the possibility to scroll the colours or to leave them fixed.
This FAZ bar is also available in a non-illuminated version. The non-illuminated version of the FAZ bar remains just as trendy thanks to its original design.
In conclusion, the FAZ bar is an ideal option for chr professionals who wish to create a lounge bar thanks to its adaptability, design and integrated lights. It will adapt to your needs and desires.
Lounge bar stools
To create a beautiful ensemble, complement the FAZ Vondom bar with matching stools.
A lounge bar is a place to relax, so it is essential that the stools you choose are comfortable and that your customers feel at ease.
Barazzi offers you the FAZ bar stools that go perfectly with the FAZ bar counter we saw earlier.
This stool is a real work of art thanks to its special and original design. The stool is fixed and fits perfectly to the body to ensure optimal comfort for customers. In addition, it has an integrated footrest for even more comfort.
The FAZ stool is available in different lighted versions to perfectly match the atmosphere and style of your bar.
With this original design, your lounge bar will stand out from the competition. Your customers will appreciate this beautiful, modern and high quality bar furniture. They will feel comfortable in your establishment while enjoying their evening.
Lounge coffee table
After the bar counter and the stools, don't forget the coffee tables. These, matched with your garden, terrace or indoor furniture, will create a beautiful, harmonious and comfortable space. Your customers will be able to enjoy their evening with friends, colleagues, families etc.
Coffee tables are essential for your customers to sit comfortably and relax with their entourage over a drink.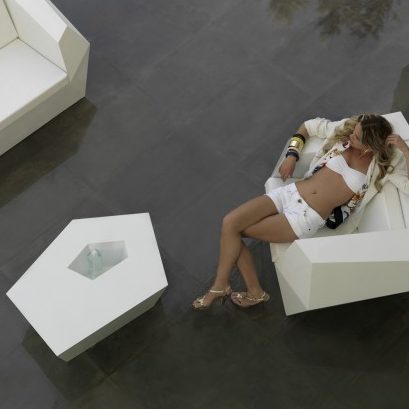 To go with all the above furniture, we suggest you select the FAZ coffee table, which will perfectly complement the lounge bar you wish to create.
This coffee table is made of polyethylene and can be used both indoors and outdoors. Its unique and original design is in the shape of a diamond. It will fit perfectly in a luxury or high-end lounge bar. It also has a nice feature: the champagne bucket is integrated in the table.
The FAZ coffee table is available in a light and a classic version, so you can choose the one you want.
Armchair, Sofa lounge
Customers like to be comfortable in armchairs or sofas. In a lounge bar, it is essential to use armchairs and sofas as well as chairs to maintain a cosy atmosphere.
Lounge armchair
The chairs you choose should be comfortable. This way, your customers will have a good time and enjoy their evening. Therefore, choose models with a wide seat and a cushion for more comfort.
In addition, the chairs should have a design that matches the lounge atmosphere you want to create. It is therefore important to pay attention to quality and materials when buying armchairs for your lounge bar.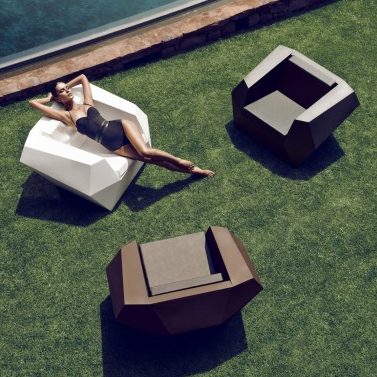 Like all Vondom pieces, the FAZ armchair is reminiscent of a diamond in design. This contemporary design furniture is perfectly suited for a lounge area.
This armchair can be illuminated or not. It is made of polyethylene and has a high quality finish.
Made of polyethylene, it is ideal for indoor or outdoor use.
Sofa lounge
By combining the FAZ armchair and the FAZ modular sofa, you will obtain a superb meridienne.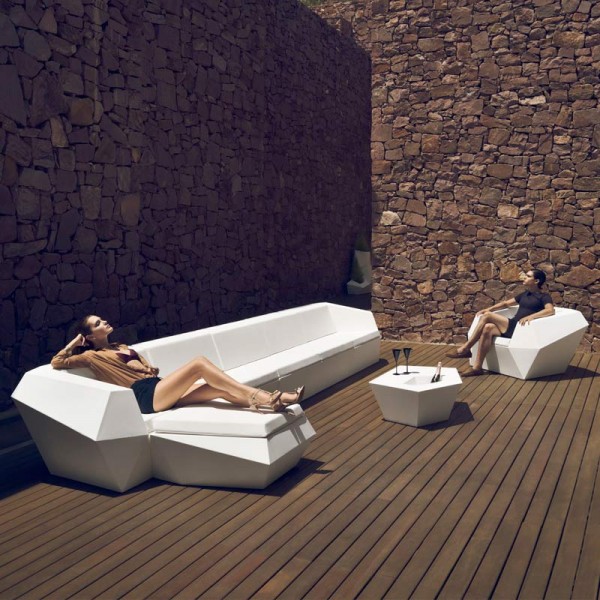 Just like the other furniture, you can find it in a lighted version.
The modular lighted sofa is ideal for your own lounge atmosphere that best suits your bar. You can find the different modules on the website.
Easy to maintain, it is ideal for catering professionals for both indoor and outdoor use.
Thanks to the high quality fabrics, your customers will feel comfortable and enjoy their evening thanks to the atmosphere and comfort of the sofa.
Lounge decoration
To create a lounge bar, you must not neglect the decoration. Although the furniture is important, the decoration is still essential to deepen the warm atmosphere of the lounge bars.
Even if the design of the furniture will already give cachet to your establishment, it is essential to have secondary decoration such as flower pots or design lamps that will go with your lounge atmosphere.
Flower pot
At Barazzi, you can find bright designer flowerpots that will fit perfectly with a lounge bar decoration.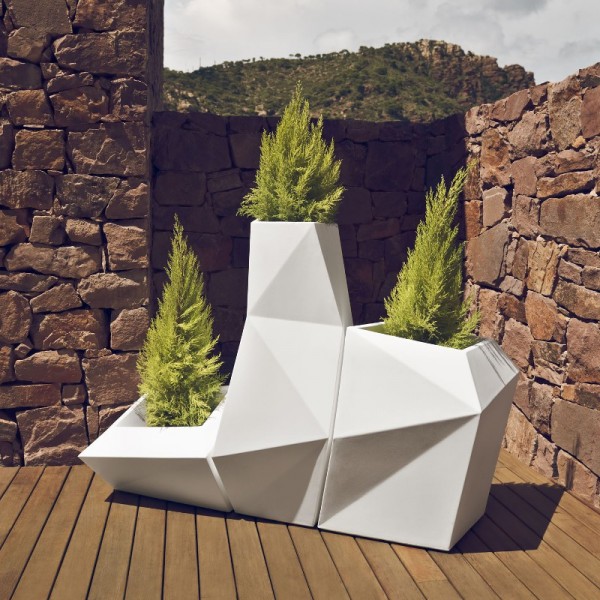 Still in the FAZ collection, we present you this time the set of 3 FAZ pots made to decorate the outside of the bar. Made of polyethylene, they are easy to clean and resistant to the outdoor environment, both UV and weather. You can choose from a wide range of colours and finishes. Whether you choose a matt or glossy finish, you can create a beautiful harmony in your lounge décor.
This set of 3 pots consists of a low pot (58 x 45 x 42 cm), a medium pot (66 x 55 x 70 cm) and a high pot (44 x 49 x 110 cm). You can either assemble your pots together or spread them around the room or terrace. This gives you the opportunity to adapt the position of the pots to your taste and the style of your establishment.
You can also find these pots in XXL format or in a lighted version. Please contact us for more information. This range of planters is ideal for a professional space such as a lounge bar and will fit in perfectly.
Design lamp
Finally, the last item we suggest to decorate your lounge bar is a design lamp. As seen previously for each of the pieces of furniture, you have the possibility of having them either in a lighted version or in a classic version. If you prefer non-luminous furniture, you can bring light to the room with a beautiful design lamp.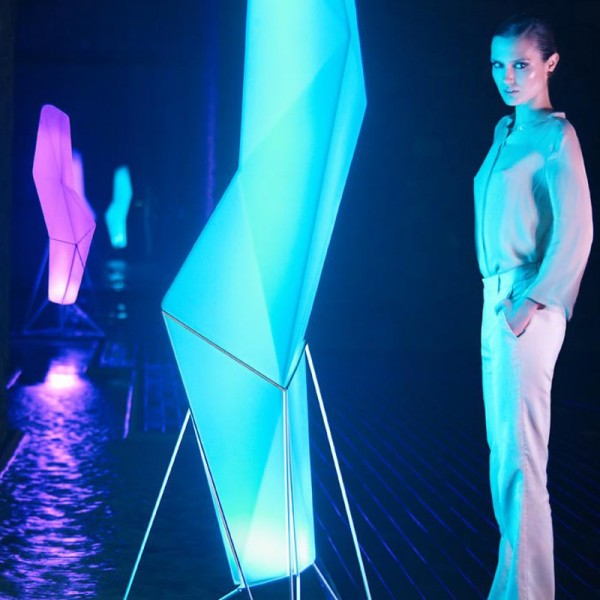 Here, still from the FAZ range, we present the lamp. This lamp is also made of polyethylene like the other furniture. It is therefore also suitable for indoor and outdoor use thanks to its UV and weather resistance.
The FAZ lamp is both a floor lamp and a decorative object thanks to its design. There are 3 versions: The FAZ lamp with white LEDs, the FAZ lamp with RGB LEDs and the FAZ lamp with wireless RGB LEDs. It's up to you to choose which version of the lamp would look best with the other furniture you have selected.
In this article, we have mainly presented the FAZ range from the Vondom brand. The concept of FAZ furniture is to highlight the shapes of the furniture thanks to the soft light that is diffused.
If you wish to discover our other ranges of products, do not hesitate to consult our various sections on our site dedicated to professionals in the restaurant, hotel, nightclub, etc.
Do not hesitate to contact our customer service if you have any questions, they will help you find what you need!