Would you like to equip your restaurant, café, bistro or hotel with parasols that are suitable for both rain and sun? You're right! Find out why you should buy a sun and rain umbrella, and our models of umbrellas for professionals.
Rain and sun umbrella: the advantages
There are several reasons why equipping a restaurant with rain and sun umbrellas may be a good idea. Firstly, it allows customers to be protected from the weather, especially from rain. Secondly, it allows restaurants to better control their environment, especially the temperature. This way, your customers feel more comfortable on your restaurant terrace and can enjoy their time outside.
Which fabric material provides the best protection against rain?
There are different kinds of waterproof fabrics that can be used to make a parasol that protects against rain.
Rain umbrella in polyester, nylon, PVC or polyurethane
Polyester is one of the most commonly used fabrics, as it is relatively inexpensive. Polyester fabric is suitable for a few weeks of sunshine per year.
However, this material is UV sensitive, and does not provide sufficient protection from rain for professional use.
Other material options include nylon, PVC and polyurethane. However, we have chosen to offer acrylic sunshades, which is the most weather resistant fabric.
Rain umbrella with acrylic fabric
The acrylic rain umbrella is a popular option for people seeking protection from the rain. The acrylic fabric is lightweight and breathable, making it comfortable to wear in the rain. It also offers excellent UV protection, which is important if you want to stay dry on sunny days.
Most of our rain umbrellas have an acrylic fabric.
For professional use, we recommend sunshades with acrylic fabric.
Our fashionable rain and sun umbrellas on Barazzi
Among the most popular parasols, there are a number of rain and sun parasols. To help you in your choice of parasol to protect from both sun and rain, we have selected a range of products at the best prices for professionals.
Ischia Oval sun and rain umbrella – FIM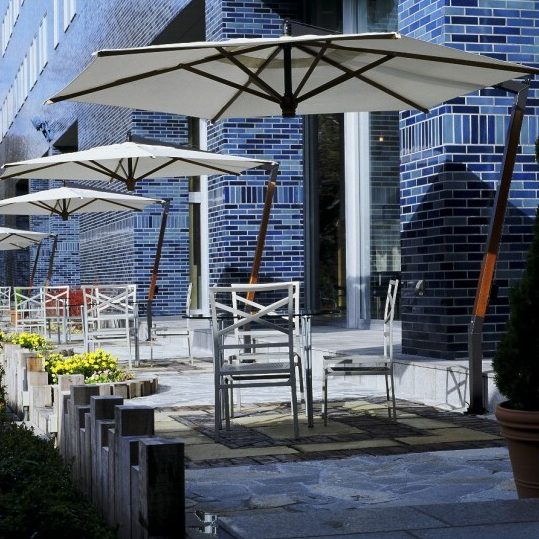 Ischia oval is an oval parasol perfectly adapted to a professional use (bar, restaurant, hotel). With its closing and opening system and its eccentric foot, this parasol will optimise the location of your terrace. This parasol will embellish your terrace and can be combined with other parasols to create a shaded area.
High quality rain and sun umbrella Pagoda – FIM
The PAGODA parasol has two equal and opposite parts, which gives it a modern and unique look. The upper part blocks the sun and rain, while the lower part reflects the interior light. The PAGODA parasol has an aluminium frame and a special base with a grey concrete ballast.
The plus of this parasol: as an option, you can have this parasol with integrated LED lighting!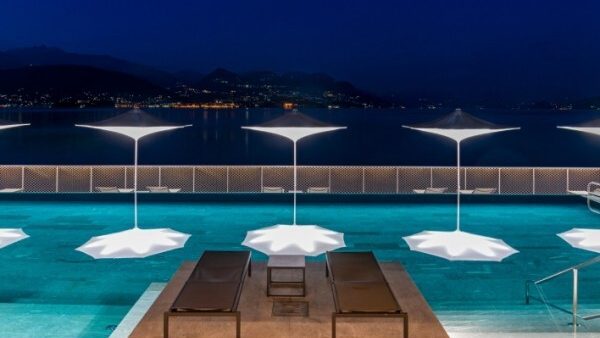 Parasol pluie et soleil octogonal avec pied central Maxi 560 – FIM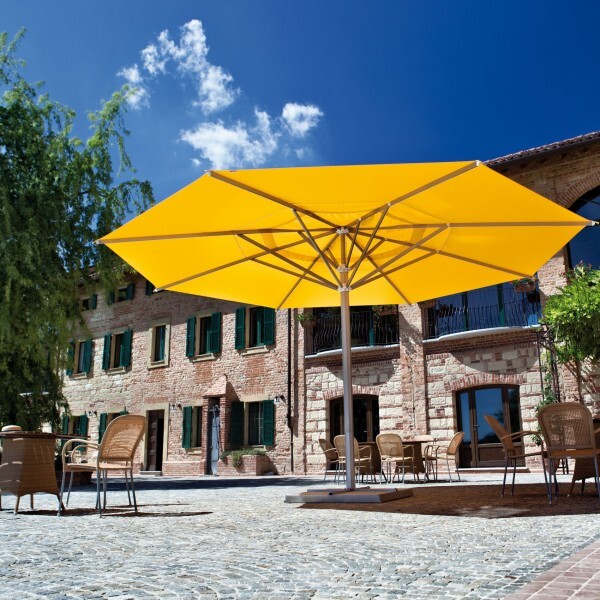 This octagonal sunshade from Fim is held down by a central foot. This system allows a minimum of space on the ground and an optimization of your used surface.
This high quality octagonal parasol will protect your customers from the sun and will embellish your bar or restaurant terrace.
This parasol is equipped with Airfirm fabric: a waterproof acrylic fabric providing total protection against the rain.
Rain and sun umbrella 4×4 with central stand and square shape Maxi 400 – FIM
Also with a central foot, discover this Fim parasol which will suit all types of terraces!
Square Maxi umbrella, held in place by a central foot. This system takes up a minimum of space on the ground while optimising the space on your terrace. The fabric used for this parasol is of high quality and waterproof, thus ensuring protection against bad weather for your customers. The price/quality ratio of this square parasol is excellent.
To discover: garden umbrellas for swimming pools
Garden umbrellas are permanent or removable structures that can be installed by the pool. They offer protection from the sun and weather while allowing bathers to enjoy the view.
The benefits of a garden pool umbrella are numerous:
They offer protection from the sun and weather while allowing bathers to enjoy the view.
They can be installed at the edge of the pool, which is ideal for lounging in the sun.
They are easy to maintain and can be moved if necessary.
They can be fitted with curtains for added privacy.
They are available in a wide range of styles and colours to suit all budgets and tastes.
Check out our sunshade models that are both sun and rain resistant!
Freestanding parasol with Flexy rain and sun blinds – FIM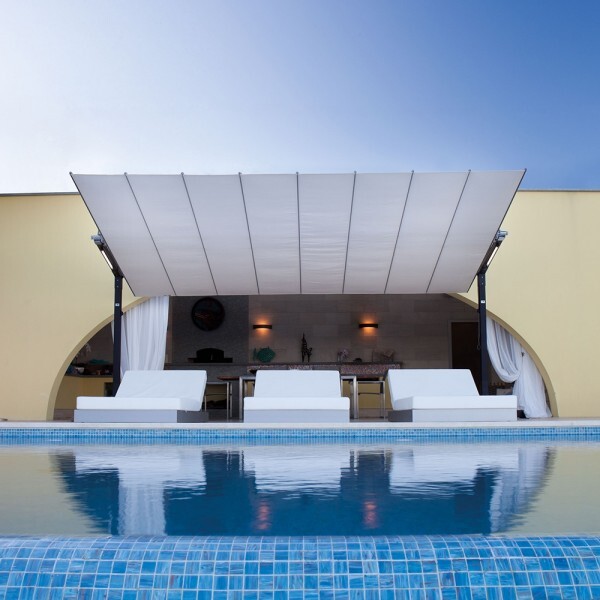 The Flexy Parasol is a large rectangular modular parasol for professional use. It is made in Europe and has a high quality, fully waterproof fabric. The polyester coating combined with the special seams ensures total protection against rain that does not even penetrate the seams. It can be combined with other modules of different sizes to cover very large areas.
Double umbrella with independent panels Flexy Twin rain and sun – Fim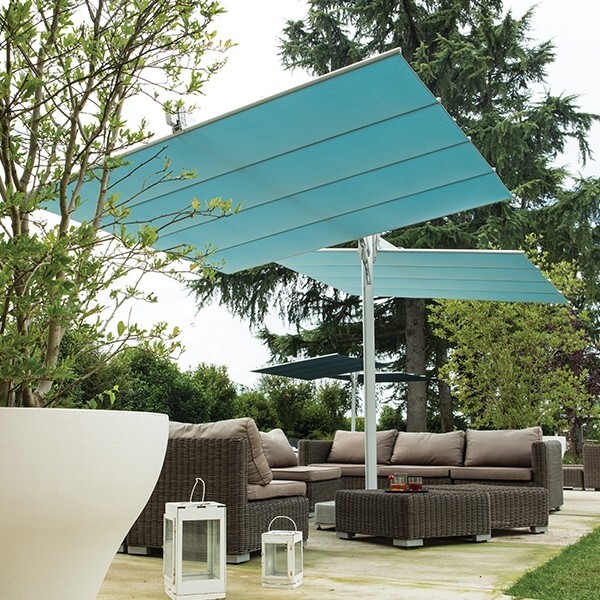 The Flexy Twin from Fim is an innovative modular sun protection system consisting of a central pole and two independently tiltable awnings. It can be used to shade large areas and can be combined with other Flexy Twin awnings to create outdoor spaces in your establishment, while taking into account your layout constraints. The high quality fabric used is completely waterproof, and the polyester coating combined with the special seams ensures total protection against rain that does not even penetrate the seams.
How to choose an umbrella with a waterproof cover?
There are many models of parasols on the market, but not all of them are equipped with a waterproof cover. If you want to enjoy your garden or terrace even if it rains, it is important to choose your parasol carefully.
The sunshade fabric should be made of acrylic or PVC-coated polyester, and it should be tight to the ribs of the sunshade. It is also important that the fabric is UV-resistant to preserve its colour over time.
When choosing the right size parasol, you need to consider the space you have and the number of people you want to shelter. A 3 metre diameter parasol will be perfect for a table and 4 chairs, while a 4 metre parasol will be more suitable for a large table or garden furniture.
Finally, don't forget to check that the parasol you buy is fitted with a solid fixing system, so that it doesn't get blown away by the wind.
The FIM brand, a mark of confidence for professionals
Do you know the FIM brand? This leading brand of high-quality parasols comes in many shapes and colours. What all these products have in common is the high quality of the materials used to make them!
The Fim brand of parasols is a top quality brand of parasols, made in Italy. Fim parasols are known for their elegant design and high quality, and are ideal for outdoor use. Fim parasols offer excellent protection from the sun and are available in a wide range of colours and sizes. We offer a wide variety of parasols from this brand. Please visit the page with all FIM parasols!
We have designed other guides to help you choose the right parasol for your activity. Please see our articles: How to choose an anti-UV parasol? and How to choose a parasol resistant to strong winds?.