Would you like to decorate your restaurant or hotel terrace with large XXL terrace flower pots? We have selected for you a few key products that will enhance your outdoor space. Discover the magnificent design pots created by great designers.
Decorate your restaurant terrace with large flower pots
When you are a professional of chr (cafés, hotels, restaurants) and you fit out your establishment, you have to pay as much attention to your interior as to your exterior decoration. Especially when your terrace is the first image your customers see.
The decoration of the terrace is not negligible, it must be design and attract potential customers.
Plants are timeless and bring a very cheerful, warm atmosphere. Flowers bring cheerfulness and pretty colours. They are essential to decorate an exterior. The saying goes: "Say it with flowers…". The language of flowers is also used when you want to convey a message, feelings or moods.
The flower pot is essential to decorate a terrace and reinforce their message.
The choice of a flower pot for a professional outdoor decoration is not to be taken lightly.
The use of large XXL flower pots will have an immediate beautifying effect on your restaurant terrace. We will help you choose your outdoor XXL flower pot!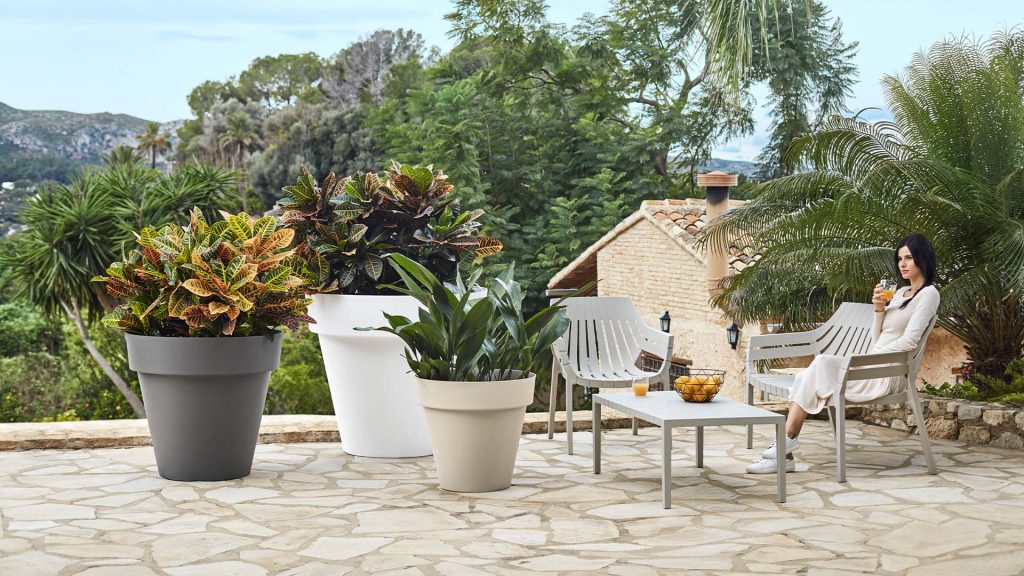 How to choose your XXL patio flower pot
When choosing an XXL flower pot for your terrace, there are several points to consider. It must be :
the flowerpot must be practical so that it does not disturb the customers;
that it is in keeping with the decoration of the establishment;
The quality of the flowerpot and the materials used must be UV resistant, weatherproof and shockproof.
Here are some inspirations of flowerpots for terrace, whether they are design, very big or more classic.
Large designer flower pots
The large professional design flower pots are perfect for terraces. They highlight the flowers or trees you want to add to your decoration. Moreover, as they are large, you can put large trees in them without disturbing the people gathered around them.
The XXL flowerpots allow you to add cachet to your outdoor decoration while being practical, easy to use and above all design.
Are you looking for a large designer outdoor flower pot?
What do you think of a 187cm high flower pot to decorate your terrace?
Today we present the Bloom flower pot designed by Eugeni Quitllet. This pot refers to a bulb, thanks to its rounded base and long conical shape.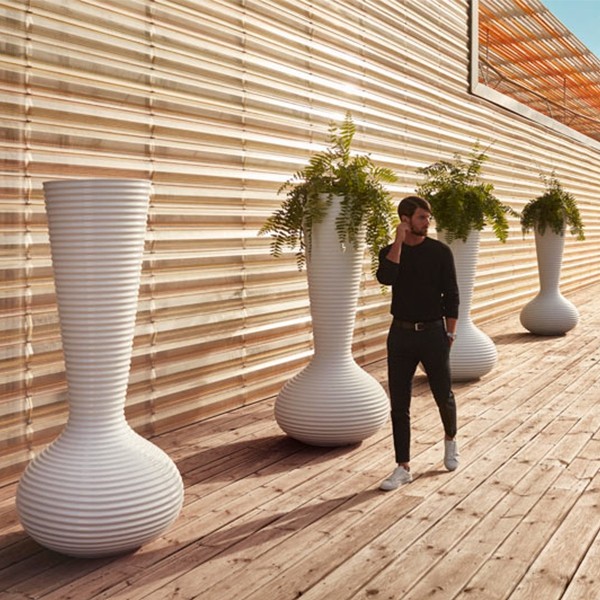 Flower pots made of polyethylene are ideal for outdoor use. This material is resistant to weather and UV rays.
Most of the flower pots offered by Barazzi are made of polyethylene, as it is one of the most resistant materials.
As you can see, after quality and material, design is essential in choosing a large flowerpot for your terrace.
That is why great designers, such as Teresa Sapey, come up with aesthetic designs that will surprise customers.
Like this original flowerpot, which is very close to a sculpture, combining art and functionality.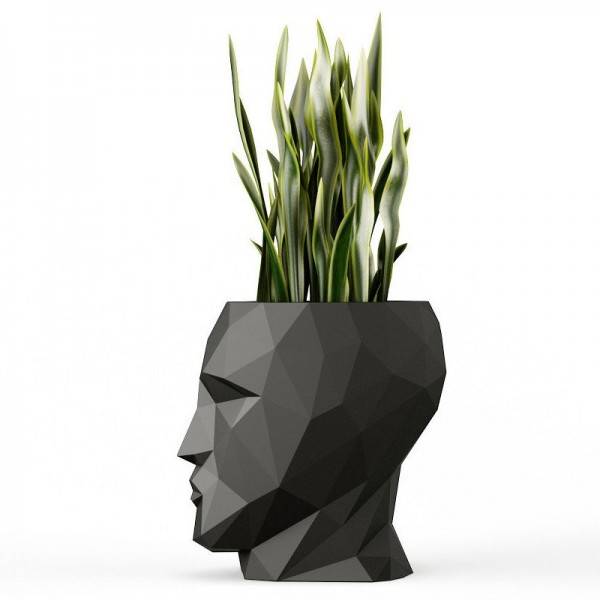 You can also opt for a set of pots. The advantage of some pot sets is that you can glue them together and this will result in an XXL pot design. You can also separate them and arrange them as you wish.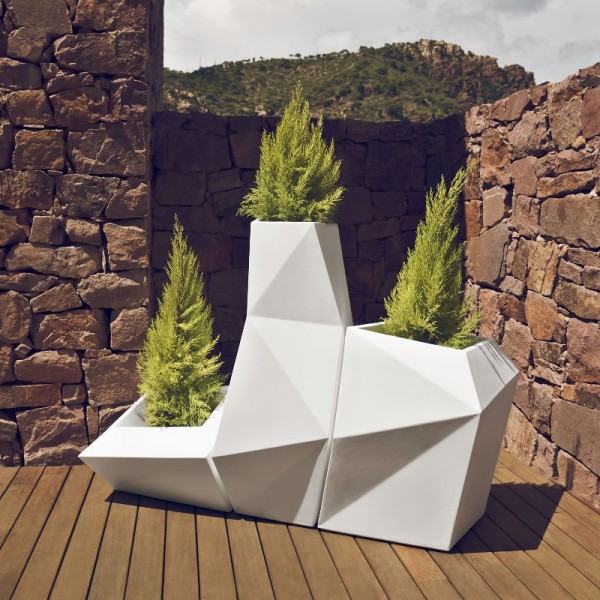 Here you can find the set of 3 FAZ XL pots containing :
1 low pot 82x63x60 cm
1 medium pot 92x77x101 cm
1 high pot 61x68x159 cm
These 3 pots can be placed independently in different locations or glued together.
Illuminated designer flowerpots
Illuminated flower pots are perfect for bringing a trendy atmosphere to any terrace.
There are classic lighted pots or ultra design lighted pots.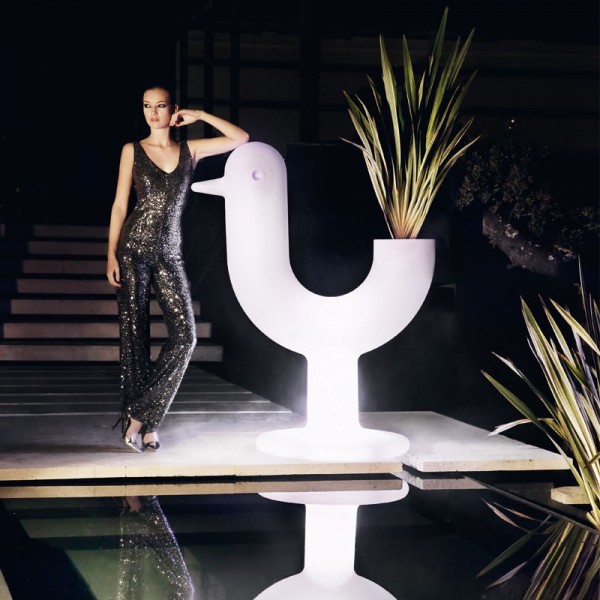 You can find ultra-design flowerpots like the emblematic creation of Eero Aarnio for the brand Vondom. In the shape of a peacock, this luminous flowerpot is perfect for outdoor decoration.
Thanks to its height of 150cm, its quality and its design, this pot is ideal for embellishing outdoor spaces such as terraces.
With a backlit base, this pot also acts as a light fixture. This will add even more character to your outdoor design.
The light pot is also made of polyethylene. This material is ideal because it is impact resistant, weather resistant and UV resistant.
With a flowerpot as stylish as the one designed by Eero Aarnio, your establishment is bound to stand out from the crowd.
There are also luminous XXL flowerpots that are much more classic but that will also enhance your terraces and bring warmth and conviviality.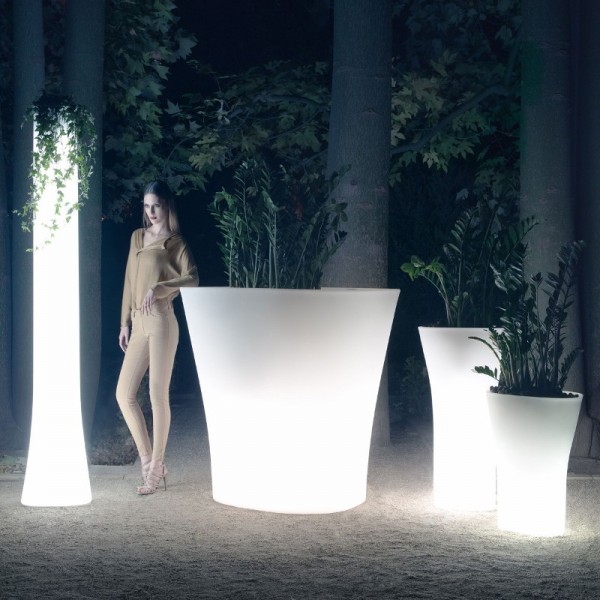 Whether during the day or at night, the large LED light pots are perfect for highlighting your floral arrangements and plants.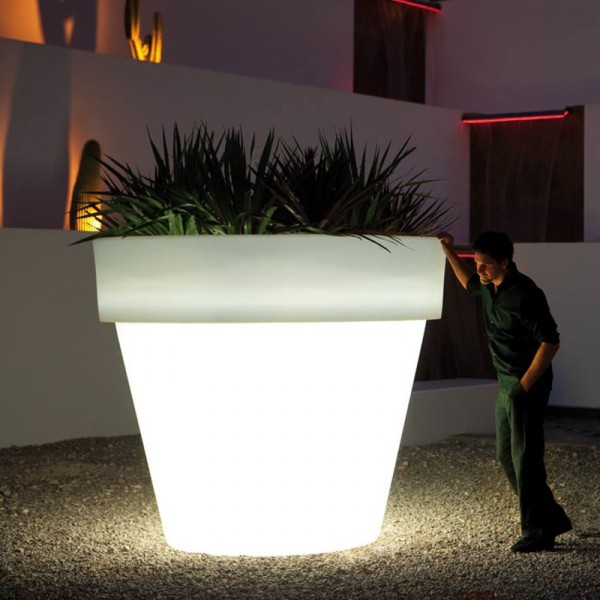 The advantage of large pots is that you can plant whatever you want, from simple flowers to large trees.
The VONDOM brand
In this article, to give you inspiration and tips for decorating your terraces, we have taken the VONDOM flower pots as an example.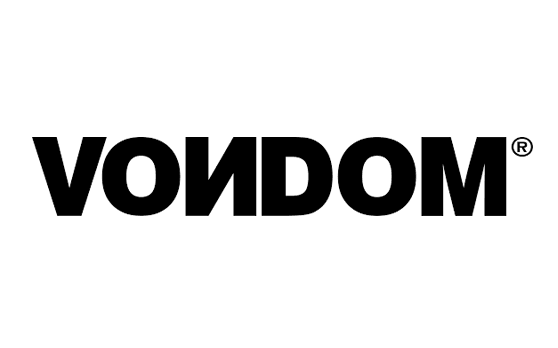 VONDOM is a Spanish brand of high-end furniture for professionals for indoor and outdoor use.
VONDOM offers furniture for bars, terraces, restaurants, cafés, etc.
Thanks to their designer, VONDOM offers quality design products for interior and exterior professional furnishings.
For their furniture, they offer the luminous version or the classic version. But also matt or lacquered finishes.
VONDOM furniture is ideal for the decoration of a professional establishment.
Don't wait any longer and consult our catalogue of modern plant pots, you will find the one that will best suit your terrace. For more information, do not hesitate to contact us.