The AND Vondom bench: an original design in the shape of a spiral
The AND outdoor bench from Vondom is a spatial and original concept. Designed by Fabio Novembre, this bench is both a functional and beautifully decorative object, thanks to its spiral shape. A volume that splits the air, creating emotional turbulence for those who get caught up in it.
The AND bench is suitable for both indoor and outdoor use. This beautiful object is made of high quality materials that make it very weatherproof.
The AND bench, a modular bench
The AND bench, an adaptable bench in size and shape!
The AND bench can be combined in many ways, as each part can be assembled to create a unique shape. You can assemble the AND modules as you wish to create a beautiful work of art!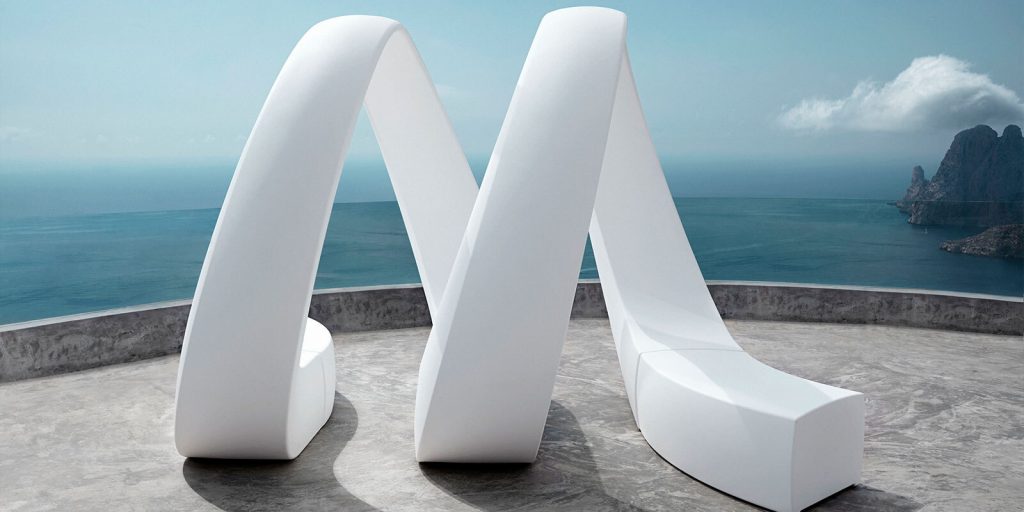 The AND bench, a bench of many colours!
Discover the AND bench in its many different colours. This bench has been designed to suit all kinds of decorations. With its various finishes, the bench is available in white, black, light grey, anthracite grey, red, green, orange, blue, purple, beige… You will be spoilt for choice to find the bench that will perfectly suit the style of decoration of your professional establishment!

The AND bench is available in matt, lacquered or LED finish
The AND bench has been designed with different finishes, to give even more design possibilities. Discover the bench by designer Fabio Novembre in its different finishes.
AND Vondom bench with matt finish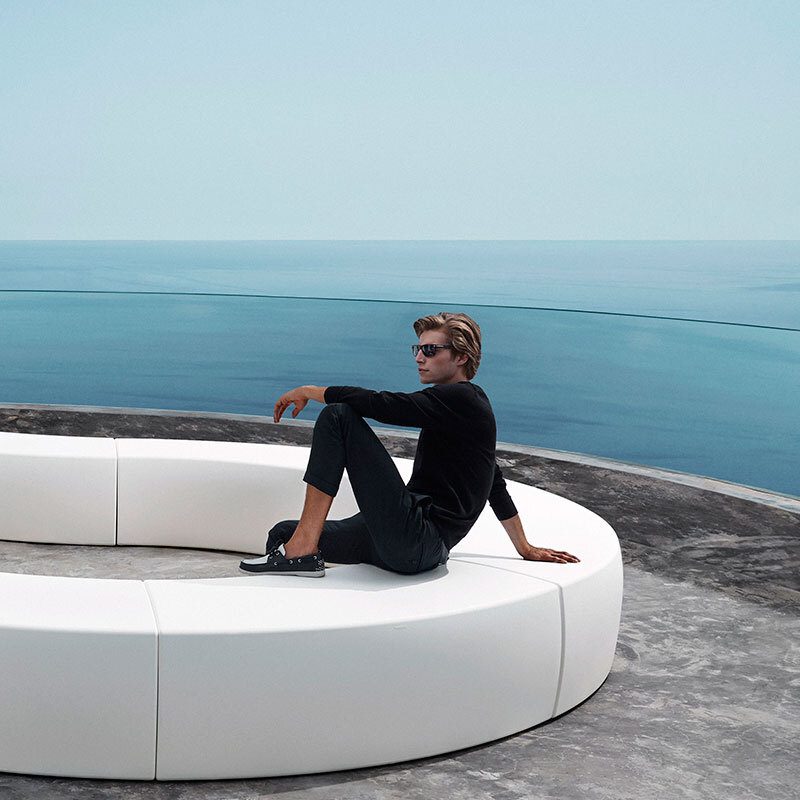 Discover the AND bench from Vondom in a matt finish. This finish is ultra chic and contemporary. The matt finish gives the bench a warm and natural look. This version is particularly easy to maintain.
AND Vondom bench with lacquer finish
Discover the AND Vondom bench in lacquered finish. This finish gives a majestic look to this piece that will reflect the light.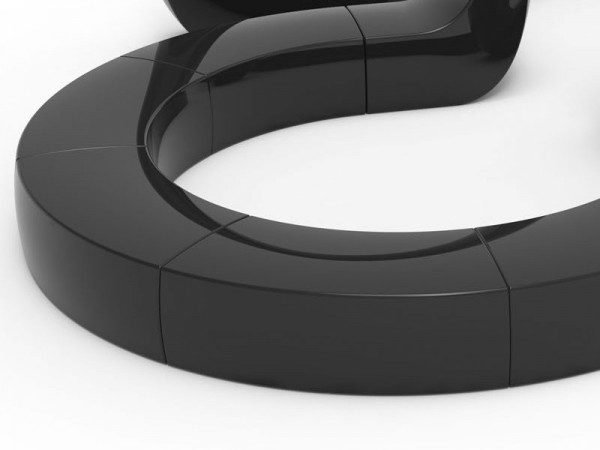 AND Vondom bench with integrated LED lighting
Discover the AND Vondom bench with LED lighting. This bench model will instantly attract attention thanks to its integrated lighting. It will diffuse a soft light that will bring luminosity around the furniture.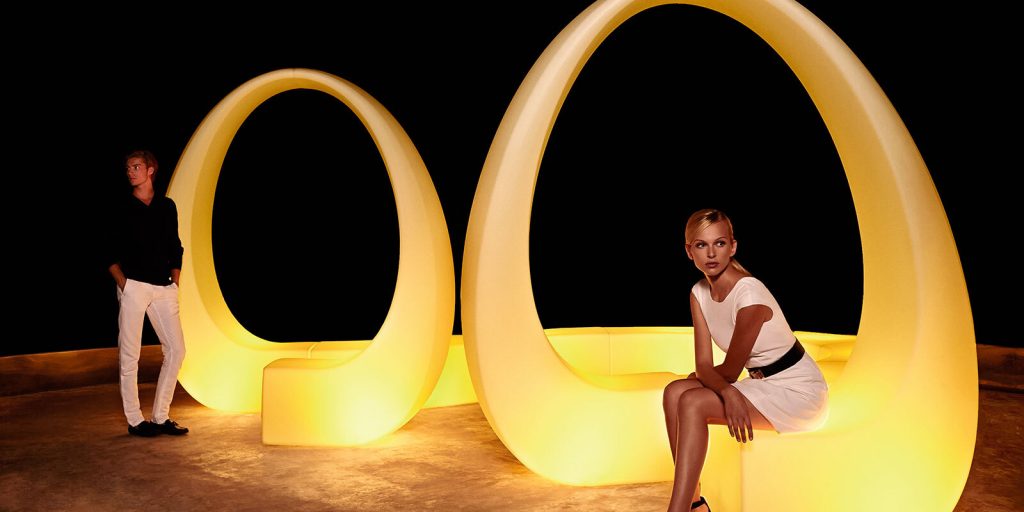 100% recyclable polyethylene AND bench
AND benches are made of polyethylene resin using the rotational moulding process. The components of this original bench are 100% recyclable. Thanks to its resistance to weather, UV and sunlight, the material of this design furniture is suitable for indoor and outdoor use. Its polyethylene construction makes it light and unique in design, allowing it to withstand extreme weather conditions, from -60°C to 80°C.
Ambient photos of the AND Vondom bench
Let yourself be tempted by this magnificent contemporary art object that will sublimate your indoor and outdoor spaces. Whether it is to decorate a hotel lobby, a company reception, a museum, an exhibition room or a reception hall, the AND bench will be ideal! It will also be perfectly adapted to decorate the terrace or the garden of your establishment.
The AND Vondom bench to decorate a hotel lobby
A luxury hotel lobby needs to be well thought out to attract attention to your establishment. The lobby is where you welcome your guests and where they make their first impression. You should therefore take care of the presentation and decoration of your hotel lobby so that your guests feel at ease from the very first moment!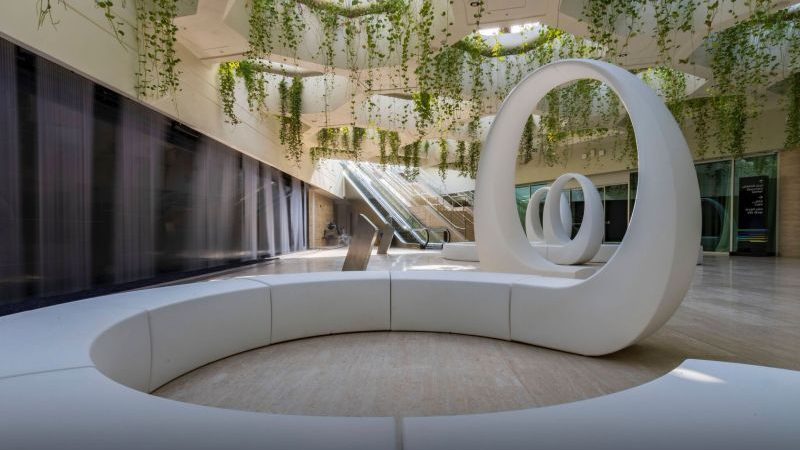 The AND Vondom bench indoors
This design bench by Vondom is suitable for both indoor and outdoor use. Here, it takes centre stage in this rough and tumble interior design. With its curved shape, it creates a break with the general atmosphere of the room. It is a daring decoration that works very well in this work area.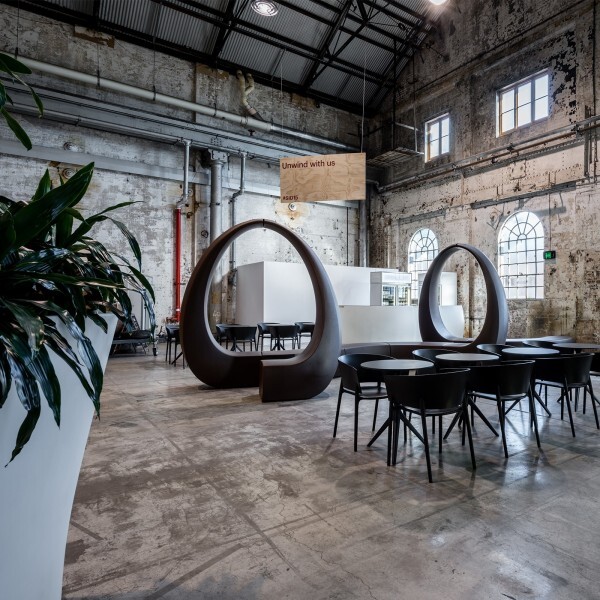 The AND Vondom bench to decorate a courtyard
To decorate an interior courtyard that is destined to attract people, whether it is to spend a relaxing moment or to have lunch with colleagues, the Vondom bench is ideal! Here you will find several benches in different shapes to vary the style. All in all, a very modern and uncluttered ensemble.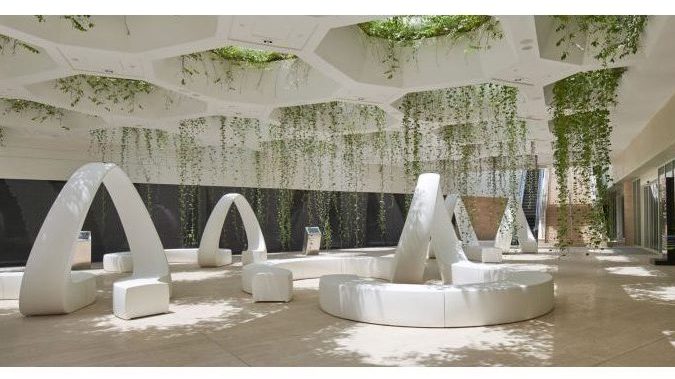 The AND Vondom bench to decorate a terrace or garden
Here, the bench is installed outside. With its beautiful rounded shapes, it attracts attention and makes you want to rest there for a moment… short or long!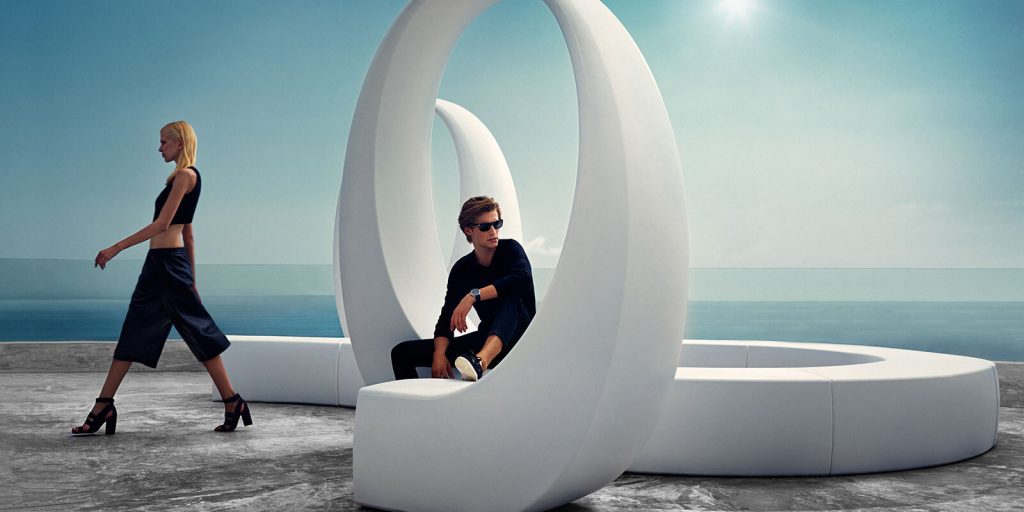 Design by Fabio Novembre
Fabio Novembre is an Italian designer known for his bold and provocative work. Born in 1968 in Rome, Novembre studied at the University of Architecture in Milan before launching his own design company in 1994. Since then, he has designed furniture, jewellery, decorative objects and even buildings, all marked by his unique and recognisable style.
His most famous works include the 'Origin of the World' chair (2005), an homage to the painting of Gustave Courbet, and 'Tomba Brion' (2008), a tower-shaped burial site that was built in Italy according to the artist's instructions and decorated with his own furniture and objects.
In addition to his design work, Fabio Novembre is also an accomplished artist and has exhibited his work in numerous museums and galleries.