Light balls, wonderful design objects
The design of your terrace and garden takes into account
the furnishings but also the decoration. The latter is essential because it will add cachet to your exterior.
The latest trend in decoration, which has been booming in recent months, is luminous decoration and more particularly luminous balls. A symbol of perfection, their perfectly round shape is a reminder of elegance and harmony.
Light balls are an ideal option for creating a warm and welcoming atmosphere in any business establishment.
Light balls for interiors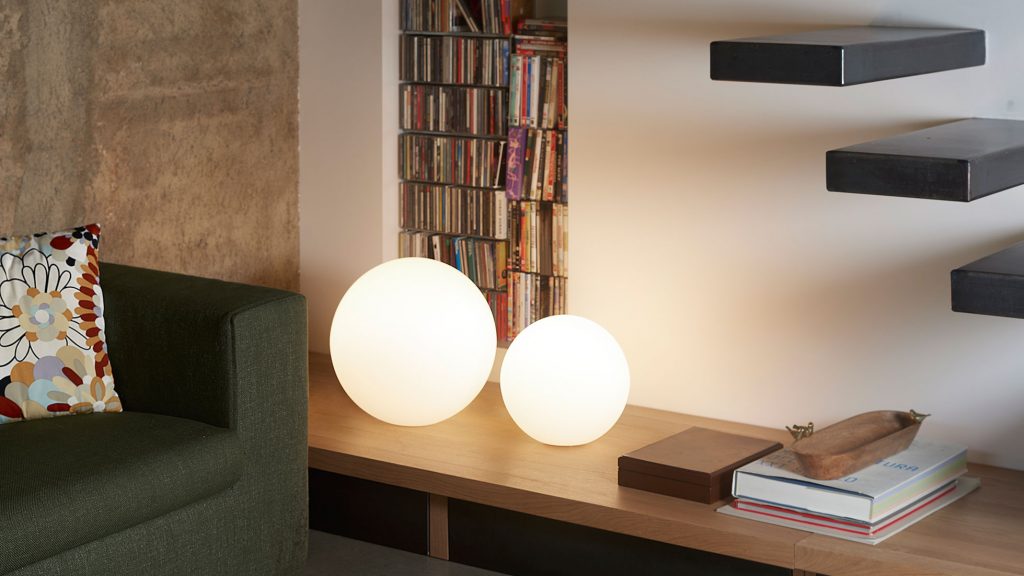 Indoor light balls are perfect for creating a warm and welcoming atmosphere in professional establishments.
In addition to providing a soft and cheerful atmosphere, these lights can be used to illuminate dining rooms, lobbies and many other areas.
The light balls can be used to highlight other furniture thanks to the diffusion of its light.
Outdoor light balls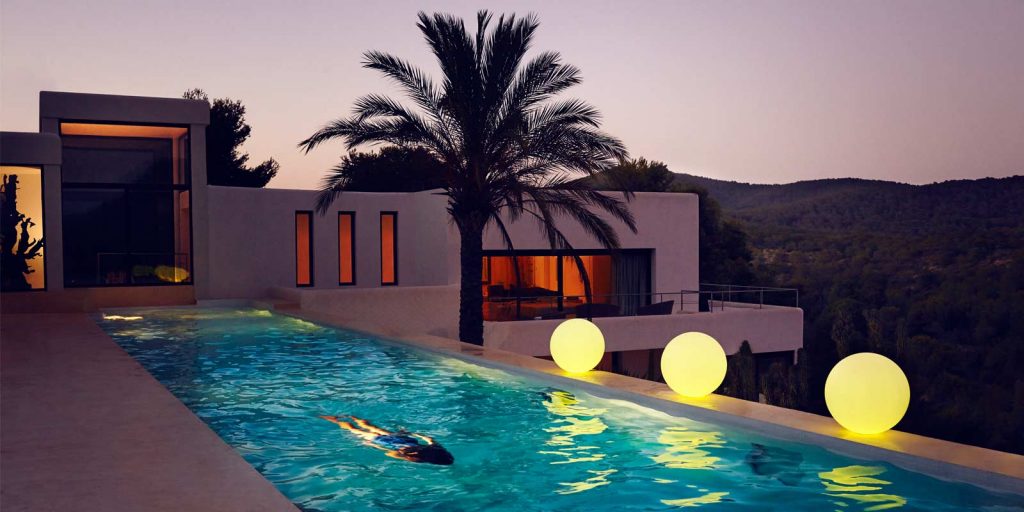 Outdoor light balls are very popular decorations for catering establishments. They can be used to add atmosphere to any outdoor space.
As with the interior, these lights are available in various sizes and colours. They are suitable for any warm or cosy environment.
In addition to providing a soft and friendly atmosphere, they can also be used to illuminate the terrace or garden in a designer way.
Outdoor light balls are generally easy to maintain and UV resistant and also simple to use.
They can be placed on the ground or even hung above your terrace or in your trees like wall fruits inviting to share.
Light balls are timeless, they add a touch of magic, design and originality. They are perfect on summer nights to warm up the atmosphere of your outdoor area.
Decorate a restaurant or hotel terrace with light balls
Whether they are hanging or floor lamps, these design objects will add character to your outdoor space.
If you are interested in luminous balls and would like to buy some, you should know that there are several models and that they can be adapted to your budget.
There are several models of light balls, such as hanging light balls, large light balls, LED RGB light balls, etc.
Discover the GLOBO light balls from SLIDE DESIGN
Wireless outdoor light ball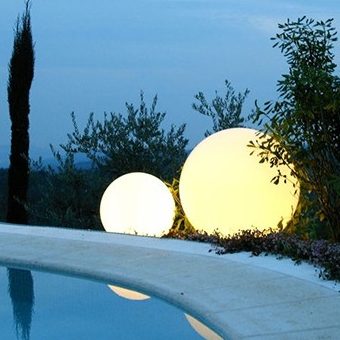 SLIDE DESIGN offers the GLOBO WIRELESS range which exists in several different sizes:
These lights are wireless with multi-coloured LED lighting. The fact that they are wireless allows for a more practical use of the light ball.
Made of polyethylene, they are easy to clean and resistant to weather and UV rays.
You can place them wherever you like and move them around as you wish. Thanks to their timeless design, these lights are ideal for catering professionals.
The light balls are perfect for outdoor decoration. They can illuminate the area around your pool or decorate your terrace tables.
Outdoor hanging light ball for garden, terrace
What could be more original than luminous balls hanging over your terrace or garden?
To have an original and design lighting, we advise you to invest in luminous balls. These lights are perfect for an establishment with a lounge atmosphere.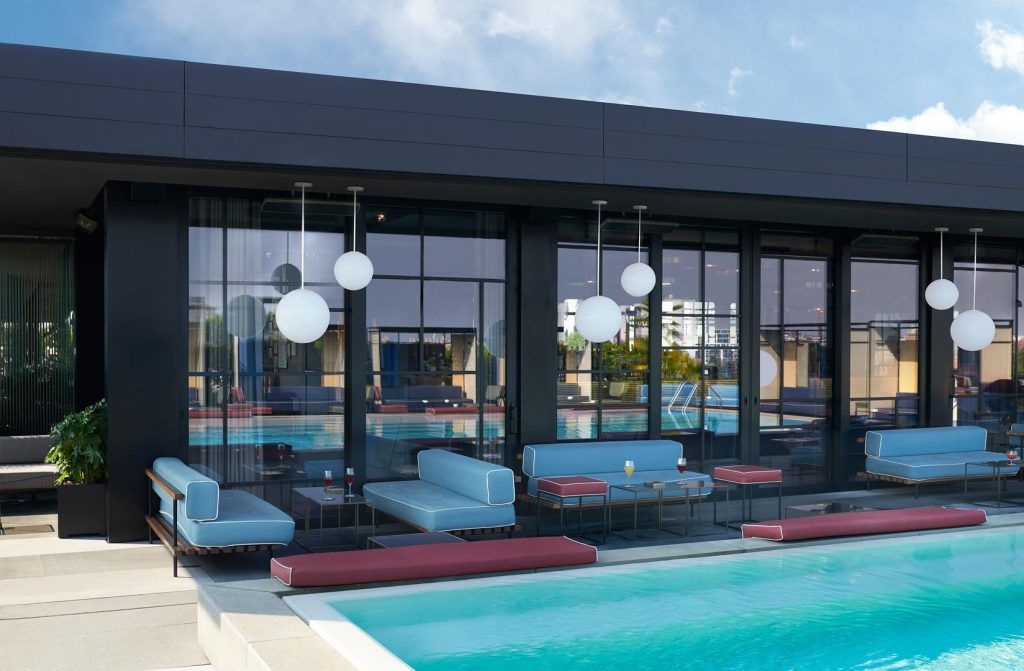 The GLOBO Pendant range offers both indoor and outdoor pendant lamps. There are 6 sizes of GLOBO Suspension lamps:
Made of white polyethylene, with either a lacquered or matt finish, they are weather resistant and easy to maintain.
The Globo lamp by Slide Design is suspended by a steel cable that supports the weight of the luminaire.
Depending on the diameter you choose, you can choose between one or more colours. You can find warm white, cool white, blue, green, red or RGB LEDs.
Giant light ball for professionals
Large lights to illuminate your garden, terrace, poolside, etc.? Go for giant light balls. Giant lights are perfect for decorating terraces and gardens.
Giant light balls create a warm, welcoming and festive atmosphere on summer nights.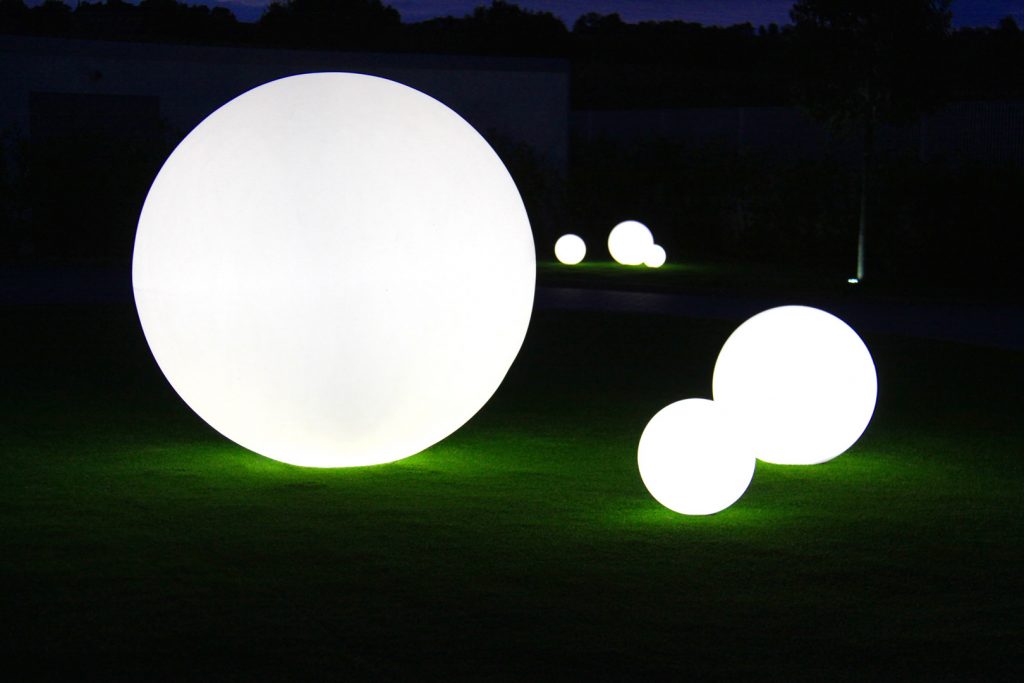 For each of its ranges, Slide Design offers giant models.
Whether it be luminous balls to be suspended as seen above:
Or the luminous balls to be placed on the ground such as :
The giant luminous balls will bring a warm and magical atmosphere to your garden or terrace. They can also light up the edge of your swimming pool, thus providing a real cachet for a night-time swim during the hot summer nights.
Outdoor decoration inspiration with LED light balls from VONDOM
Simple, colourful light balls to put on the ground to create a unique atmosphere in the outdoor area of your establishment.
Multicoloured light balls are ideal for bars and for creating a fun and warm atmosphere.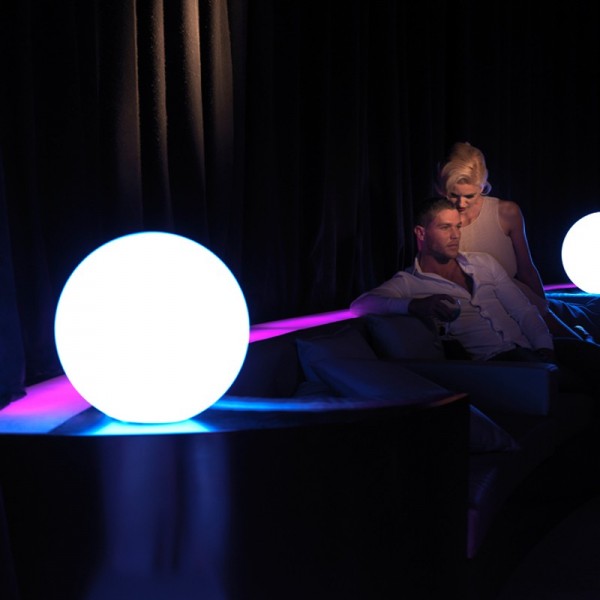 This collection of floor lamps with the name "Bubbles" is available in 4 different diameter sizes: 30cm, 40cm, 50cm and 60cm.
There are several versions of this range:
Bubbles with eco-bulbs;
RGB LED light balls, which can be controlled remotely with a remote control;
Wireless LED light balls, with built-in battery and remote control.
These floor lamps are ideal to decorate a terrace or a garden in an original and design way. They will bring a warm and relaxed atmosphere.
Don't wait any longer and check out our catalogue of luminous balls, there's no doubt that you'll find what you need on our Barazzi website!
If you are looking for an original design light for your outdoor or indoor space, don't hesitate to consult our Lighting catalogue. You will find floor lamps, wall lamps, hanging lamps, modern chandeliers, outdoor lighting and much more.
Please contact our customer service if you have any questions, they will help you find what you need for your professional outdoor decoration.