The whale tail armchair, with its marine style design, invites itself in the interior decoration of the seaside. With its shape reminiscent of a whale's tail, this armchair creates a sense of escape and adds a personal touch to the decor. A marine style armchair is not only a functional object, it is also a special design object that will find its place in restaurant interiors or terraces.
The Slide Design whale tail chair
The great brand Slide Design has designed a beautiful whale tail chair for your restaurants, bars, hotels or discos.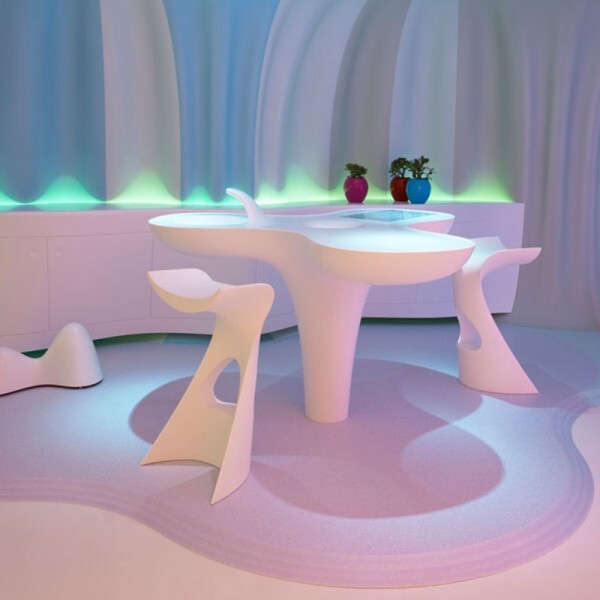 With its very original look, this Koncord bar stool by Slide Design is ideal to bring a unique touch to your establishment while optimizing the comfort of your customers.
Made of polyethylene, it is weatherproof, sunproof and scratch resistant, making it ideal for outdoor use.
Multicoloured whale tail stool Koncord Slide Design
The Slide Design brand has designed a stool that comes in a wide variety of colours. With its multiple finishes, the Koncord stool can enhance any style of decoration, both indoors and outdoors! The stool is available in neutral or very bright colours, which can give a very different tone and atmosphere depending on the space.

Designer Karim Rashid
Karim Rashid is a Canadian industrial and graphic designer, born in 1960. He is known for his innovative and bold design work, which is inspired by nature and geometric form. His designs include furniture, accessories, clothing, jewellery, decorative objects and even buildings. Rashid has also designed products for many famous brands, including Alessi, Bobble, Citigroup, Coca-Cola, and Samsung.
Koncord whaletail stool for restaurants: inspirations
Let yourself be inspired by the beautiful highlights of the Koncord whale tail stool! This beautiful design object will take its place in your high-end restaurant decorations. It will sublimate your decoration with an original and chic touch!
For a pure, minimalist and chic version, you can opt for the white Koncord stool model. This version of the Koncord whaletail stool is classy and trendy. This model will suit any space: interior or exterior decoration, bar, restaurant, nightclub…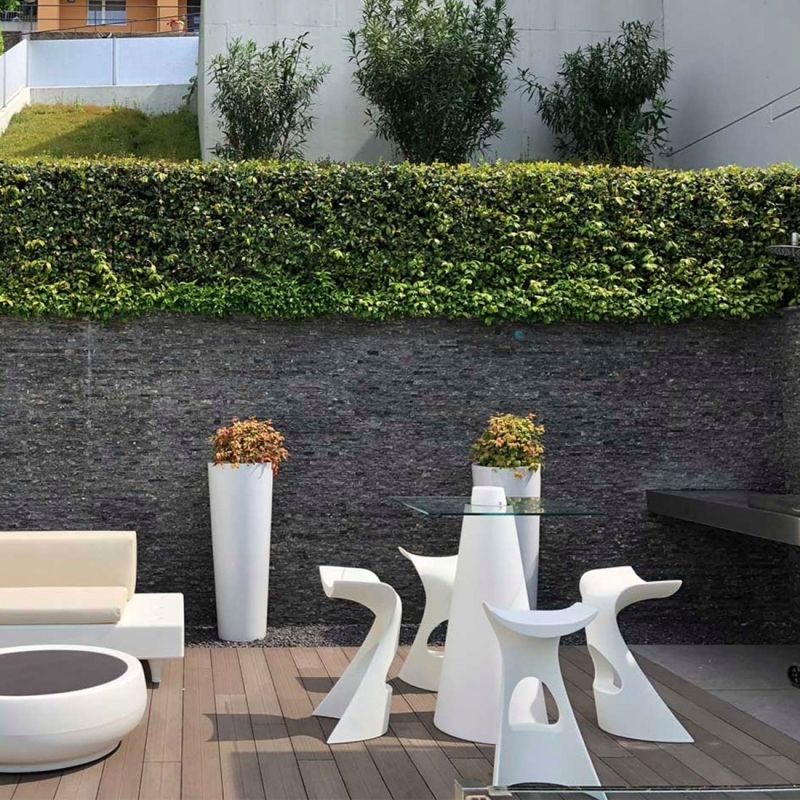 To create an original decoration, you can vary the colours. Here, the combination of red, black and white colours makes you think of the world of games and parties.
Don't hesitate to mix colours for a unique and atypical result!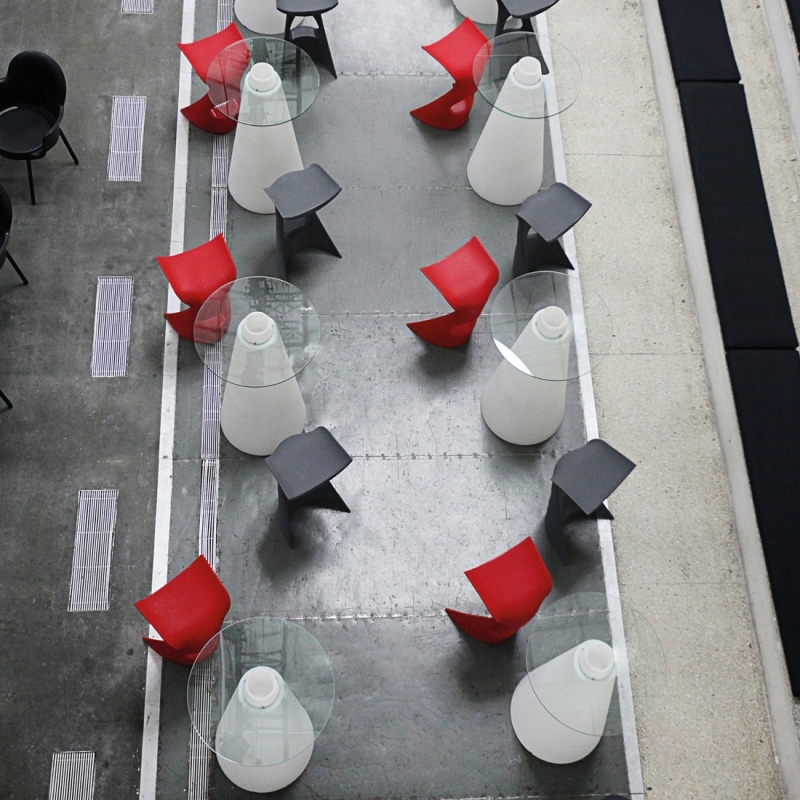 In another style, the red Koncord Slide Design stools are a perfect match for the light up high tables.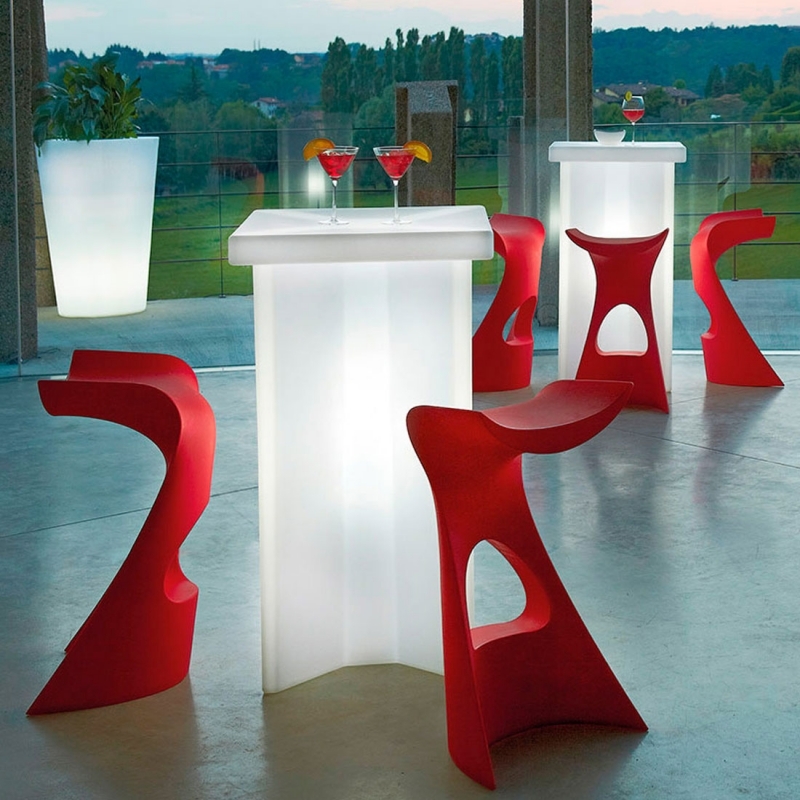 If you want to give your terrace or interior decoration a boost, you can opt for a bright colour! Here, the orange stools add a pleasant touch of colour to this terrace. This warm, summery colour invites you to take time to enjoy the outdoors and the sun.
The orange Koncord whaletail stools fit in perfectly with the bottle-shaped tables.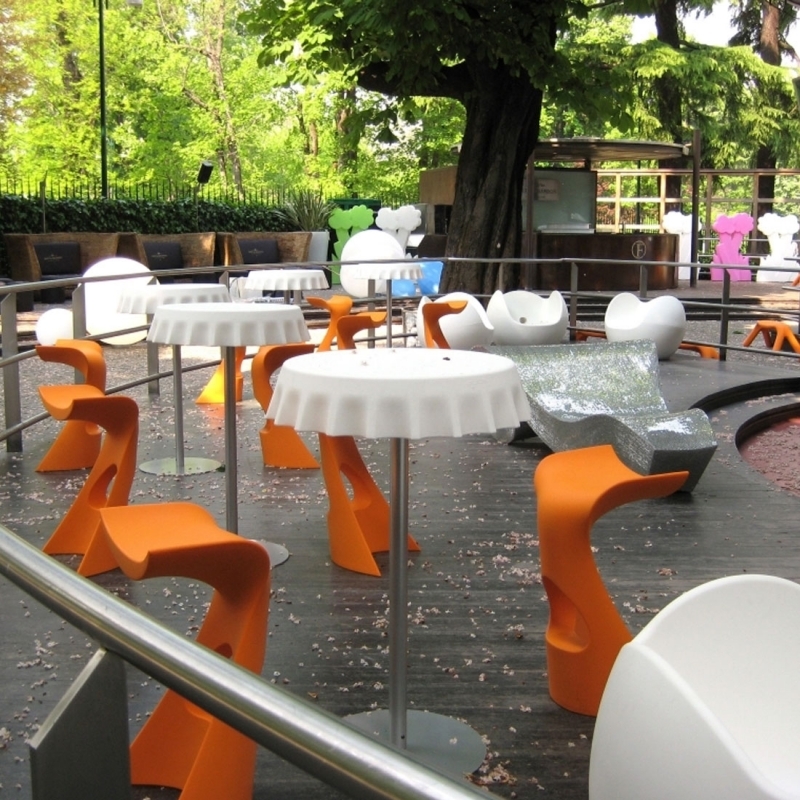 For maximum colour, you can opt for a colourful combination of chairs and tables. Here, the green Koncord whaletail chairs are combined with green high tables. This creates a beautiful, invigorating and harmonious atmosphere for the outdoors. Moreover, the green matches the surrounding vegetation perfectly, which is highlighted in beautiful modern plant pots.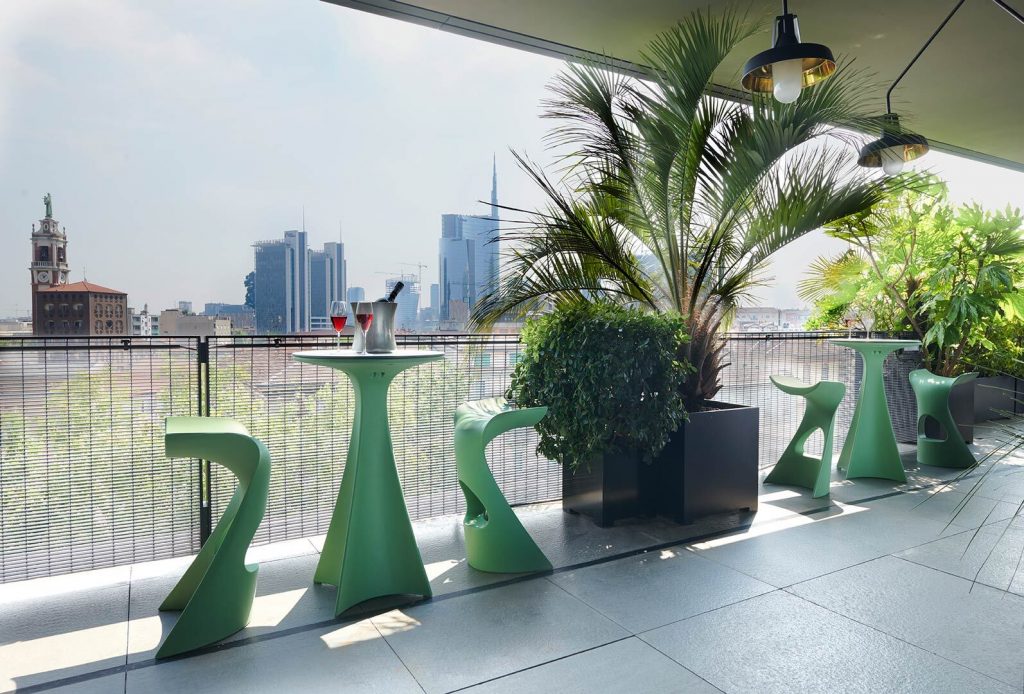 If you prefer a more neutral atmosphere, you can opt for natural colours. Here, the neutral tones of the chairs and the minimalism of the table are restful and very contemporary. Installed by the pool, this outdoor furniture invites you to relax and enjoy.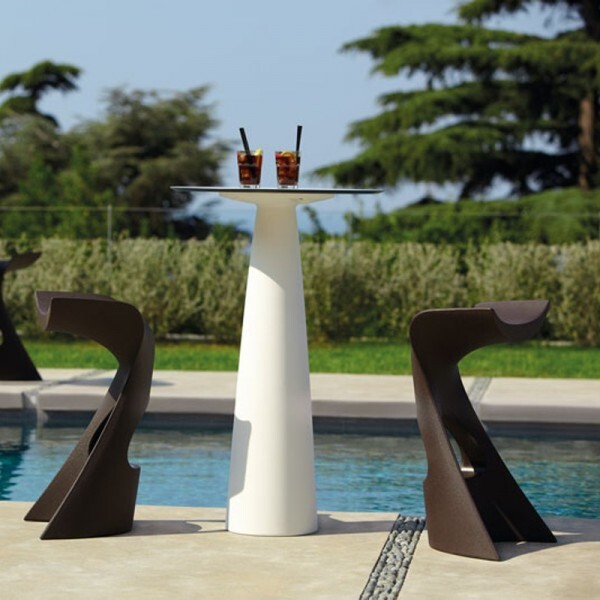 The Slide Design brand
Slide Design was founded in 2006 by two Italian designers, Andrea Rizzi and Simone Micheli. Their goal was to create quality design products that were accessible to the masses. Today, the brand offers a wide range of products for the home, from furniture to decorative accessories.
Slide Design's creations are characterised by their modern, clean aesthetic, attention to detail and functionality. The brand's products are made from high quality materials and are designed to last over time.
Slide Design has quickly established itself as a reference in the world of design, collaborating with big names in the sector such as Alessi, Foscarini and Kartell. In 2016, the brand was awarded the prestigious Red Dot Award for its innovative and quality design.
The marine furniture, a decorative asset for your restaurant!
The marine style is an ideal decoration for restaurants that want to create a warm and summery atmosphere.
There are many advantages of marine style decoration: it can easily be achieved with designer furniture and a few accessories reminiscent of the sea.
To create a nautical style decoration in your restaurant, favour light and natural colours, such as blue and white. Brightly coloured whaletail chairs are also suitable for this style of decoration. Our Koncord marine style chairs are perfect for this kind of decoration.
Wooden furniture is also ideal for this style. Don't forget to add a few nautical touches, such as shells, anchors or lanterns, to complete the look!
By choosing a marine style decoration for your restaurant, you are sure to create a welcoming and summery atmosphere that will please your customers!
Other Inspirations whale tail chair
In the whale tail chair style, other designers have created original seating designs! Discover for example these models of whale tail stools!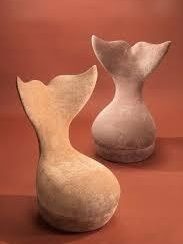 So, are you a fan of contemporary design furniture or authentic, rustic pieces? On the Barazzi website, we offer design furniture for professionals. Discover our high-end restaurant furniture products! Quotes and prices for professionals. Take advantage of this offer!