Sung by Renaud, the counter is an essential element of a bar or a nightclub. Also known colloquially as the Zinc, it allows the customer to be in direct contact with the barman and to watch with what skill and dexterity he prepares his cocktails.
Today, the counter, whether it is a design or an antique style, remains a timeless element.
From the popular atmosphere of Audiard's films to the hushed atmosphere of the lounge bar, it can be adapted in all its forms to suit the atmosphere of your establishment.
In a discotheque or even during an event, the bar counter is the most important piece of furniture. It allows customers to order a drink and potentially to sit at it.
The bar counter you choose should be stylish and above all practical.
The illuminated bar counter is a very popular item for nightclubs and events. It brings a festive and warm atmosphere.
The illuminated bar counter is also ideal for bars with a lounge atmosphere.
Illuminated bar counter, outdoor and indoor
Lighted bar counters can be adapted to the atmosphere you wish to share.
With white LEDs or multicoloured RGB LEDs, thanks to its remote control you will be able to choose the colour of your choice, whether it is fixed or with variations in intensity.
The luminous bar furniture can therefore be adapted to any style of decoration and atmosphere.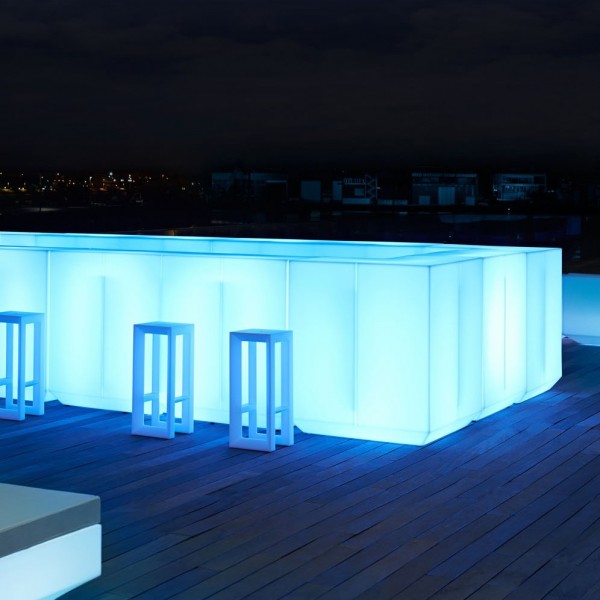 Illuminated bar counters are ideal for events. Especially when you can use them indoors or outdoors.
Indoor or outdoor? It all depends on your needs and how the counter is made.
The most commonly used material is polyethylene. It is a material that is weatherproof, impact resistant, UV resistant and easy to maintain.
The quality of the polyethylene makes this counter perfect for both indoor and outdoor use.
A lighted bar counter is ideal for decorating a nightclub. It will bring a warm and festive atmosphere during the evenings by illuminating the bar.
Inspirations Luminous bar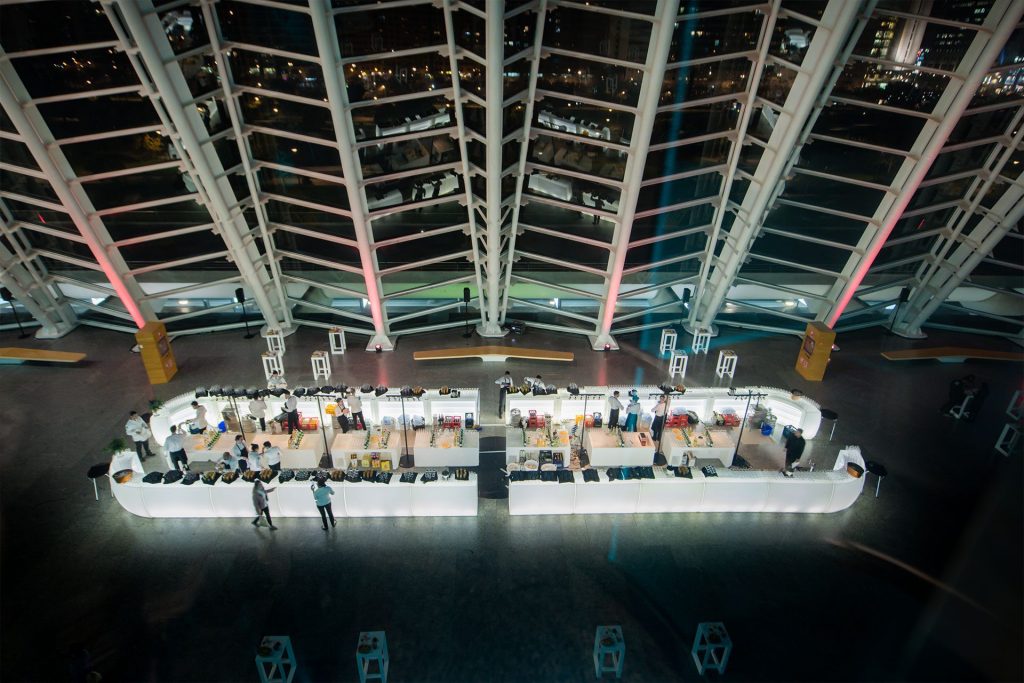 The illuminated bar counter is also a piece of furniture to enhance your events. You can find illuminated bars in different places such as bars, discotheques, terraces, etc., but also in museums, event locations, etc.
Like in the Valencia Science Museum, where you can find the VONDOM Fiesta Bar and Vela Catering Bar. The bright bar counter adds a design touch to the modernity of the museum.
Thanks to this large, flexible bar, the Valencia Science Museum can organise cocktails and welcome guests while allowing them to feel comfortable and at ease.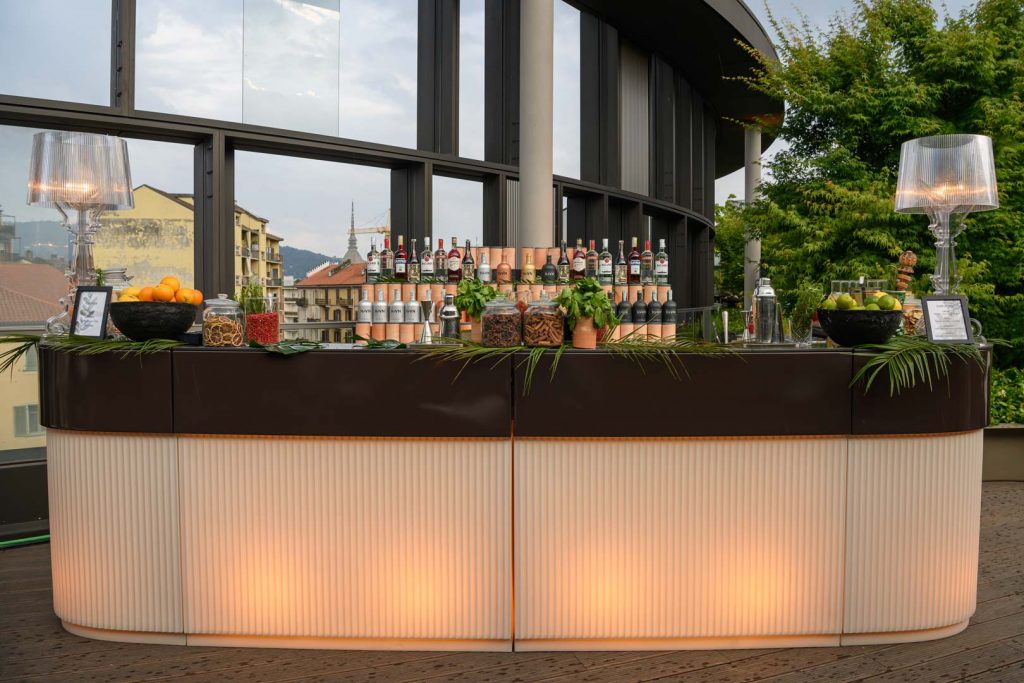 Lighted bars are also often sought after to enhance outdoor spaces.
Here you can find the example of Nuvola Lavazza, with its light bar on their terrace.
Nuvola Lavazza is a café that aims to "tell a story of sharing ideas, food and culture".
The terrace features the Cordiale and Cordiale Corner counters by Slide Design.
With a view of Turin, this bar is intended for aperitifs and private events. The lighted bar is ideal for all events, bringing elegance and design to the rooftop.
The lighted bar counter adapts to your project and your desires, while bringing elegance and modernity to the surrounding environment.
How to choose a lighted bar counter?
There are all types of illuminated bar counters: round, rectangular, etc. The choice of your bar counter requires different considerations:
quality: it must be made of a shock-resistant material, and possibly weather-resistant if you plan to use it outdoors;
design: it must go with the decoration of your establishment. Moreover, if it is designer, it can leave a mark on your customers' minds and allow you to stand out from your competitors. But also it can bring a particular touch to your atmosphere;
Practicality: it must be practical and comfortable so that your staff can work easily but also so that your customers feel at ease.
Choosing a bar counter can be complex. Here are some ideas for a bright bar counter that might help you in your consideration.
Round illuminated bar counter
A round illuminated bar counter is an advantage for smaller spaces, it is also a space that can be more intimate and provide a more convivial atmosphere.
To create your own round illuminated bar counter you can opt for a modular bar set.
The advantage of having a modular bar is that it is easy to install and you can arrange it as you wish.
You can personalise your countertop as you wish thanks to its layout and the LEDs you choose.
Generally you can find bar counters in several versions either with multicoloured LEDs or with white LEDs.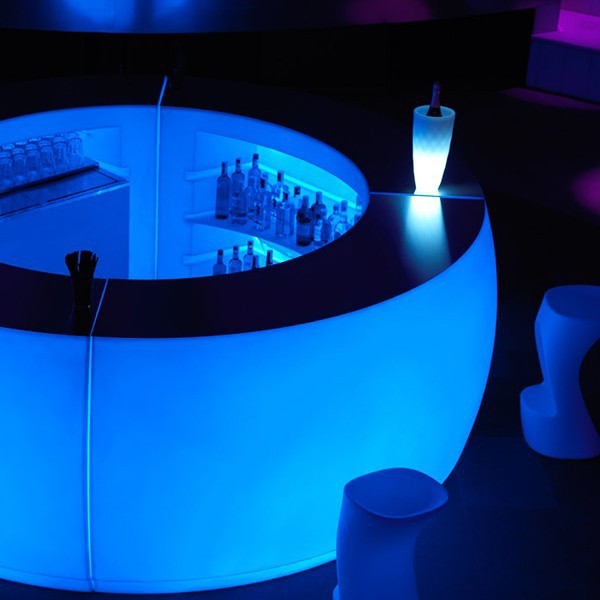 Above you can see one of the modules of the VONDOM Fiesta Bar seen in the inspirations at the beginning of the article.
With the Fiesta Curva, VONDOM offers a modular round bar counter.
There are three versions of the illuminated bar counter:
the Fiesta Curva with multicoloured RGB LEDs;
with wireless LEDs;
with white LEDs.
The Vondom Fiesta Curva bar counter is made of polyethylene. Remember, polyethylene is very impact and weather resistant making it ideal for nightclubs and events. Like the Break Bar proposed by Slide Design.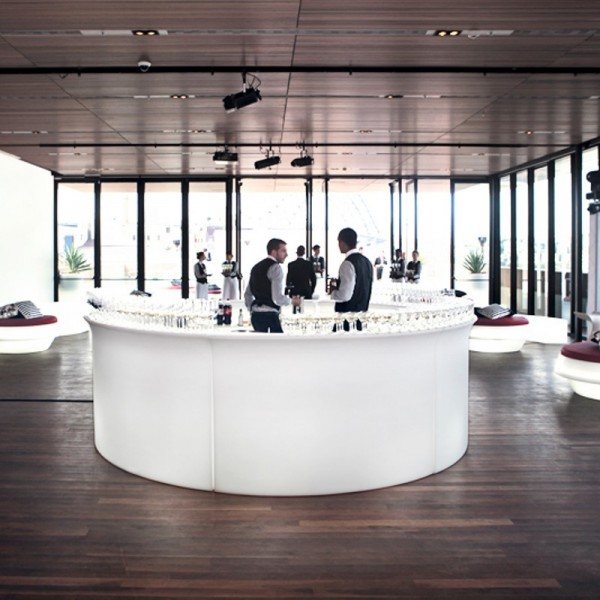 The Break Bar by Slide Design is a modular and versatile lighted bar.
This lighted bar is equipped with compact eco fluorescent bulbs. This bar is available in different colours:
Cool white Eco 25W
Warm white Eco 25W
Yellow Eco 25W
Blue Eco 25W
Red Eco 25W
Green Eco 25W
Or you can use RGB LED bulbs that can be controlled remotely with a remote control.
The modular round bar counters will allow you to stand out from the competition thanks to their adaptability.
Illuminated bar counter rectangle
A little more classic but timeless, we are of course talking about a rectangular bar counter. By adding LEDs, it will give the counter a modern and design touch.
Rectangular bar counters are comfortable and very practical for both staff and customers.
You can opt for a modular rectangular bar. This way you can adapt it as you wish to make it fit perfectly in your establishment!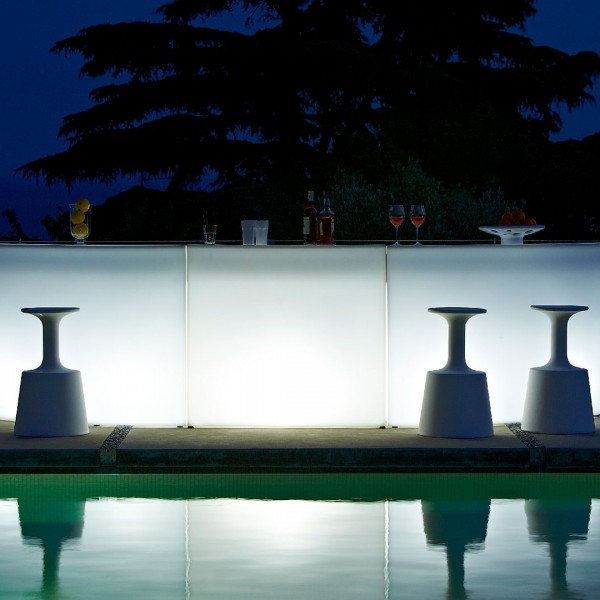 The Break range proposed by Slide Design is a concept of modular light bars. Above you can see the Break Line which can be assembled with the Break Bar seen previously, to form an original design bar.
The Break Line has the same characteristics as the Break Bar except that it is straight.
On Barazzi.com you can find other models of bar counters such as the Vela bar 200 by VONDOM: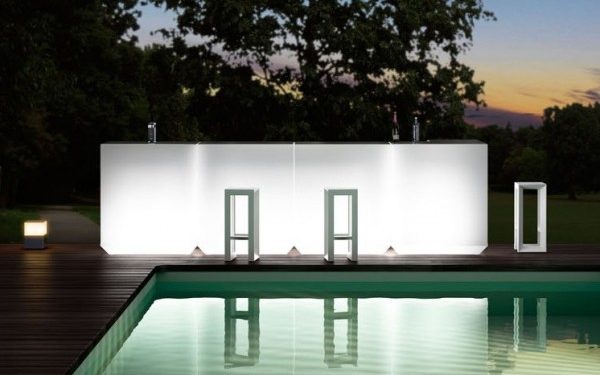 Made of polyethylene, this bar is shock and weather resistant.
It can be customised and adapted to your environment.
If you are looking for a bar counter that will perfectly match your establishment, don't wait any longer and consult our selection of luminous bar furniture, you will surely find the rare pearl.
Do not hesitate to contact our customer service if you have any questions.