The bed dates back to ancient times. It was used to protect oneself from the cold ground and from small animals. The bed is not only used to fall asleep, the ancient Romans loved the triclinium, the table bed.
The four-poster bed, with its curtains to keep some privacy, was known in ancient Egypt.
Today there are all kinds of beds, in different materials and heights. We are particularly interested in the garden bed.
Indeed, what could be better than resting on a garden bed to enjoy the sun's rays, the summer twilight or simply to watch the celestial vault light up little by little.
Isn't it nice to take advantage of the good weather to read a good novel by the pool? To share a moment of happiness, lying with friends on a terrace and talking about things?
A garden bed can be more than just a basic object. It can be a design, close to a work of art, luminous or not, and provide optimal comfort to those you welcome. Let us guide you through the world of aesthetic, modern and functional garden beds.
Cocoon garden bed
A cocoon garden bed is a bed that will be comfortable with a structure on top. It looks like an egg where you can rest like a caterpillar in its silk cocoon and feel good.
What better way to relax by the pool, on the beach or in the garden than with a comfortable cocoon garden bed.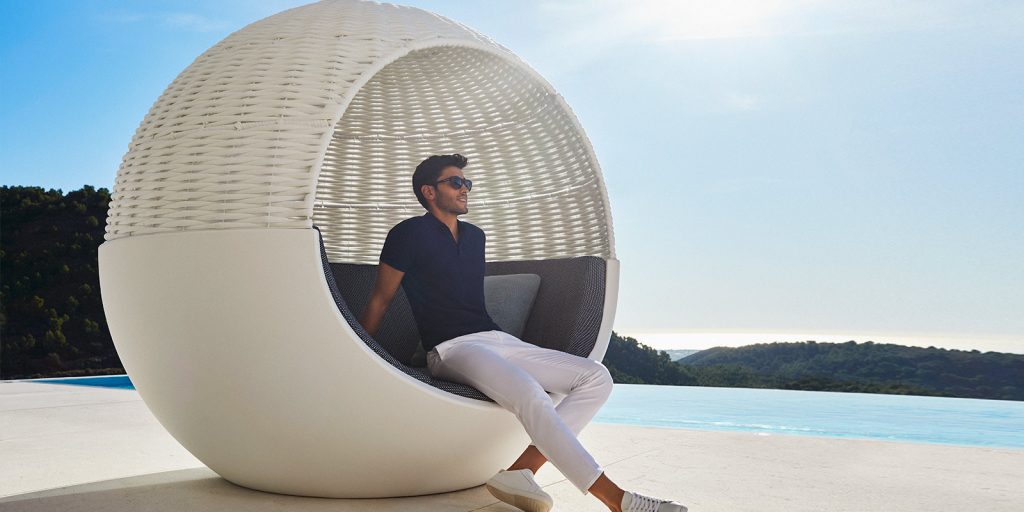 Opt for one or more garden beds with a woven outer shell that ensures resistance to UV, rain, etc. while being modern and stylish.
Above you can see the ULM MOON daybed from VONDOM. Original and stylish, it fits in with any outdoor décor, while promising optimal comfort.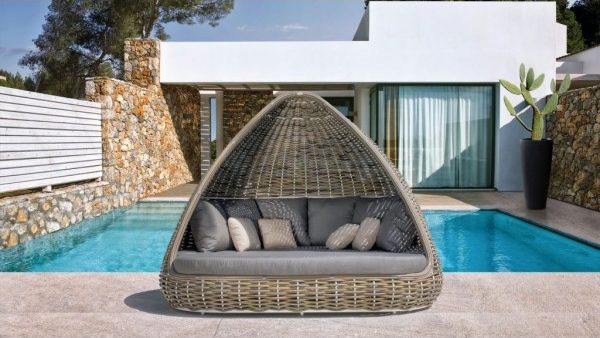 You can also opt for a garden bed with a rattan look. A rattan garden bed will bring a much more natural touch to an outdoor space.
Barazzi also offers garden beds from the Skyline Design brand. For example, the Rattan Cocoon Daybed.
With its cocoon-like design, it ensures optimal comfort and allows customers to make the most of the good weather.
The cocoon garden beds are ideal for professional outdoor furnishing. Your customers will be delighted with them.
Round garden bed
With a modern and cosy design, round garden beds are becoming increasingly popular.
Whether it's with a woven style that brings a more natural touch:
Or a daybed with a lacquered finish that gives a much more modern touch: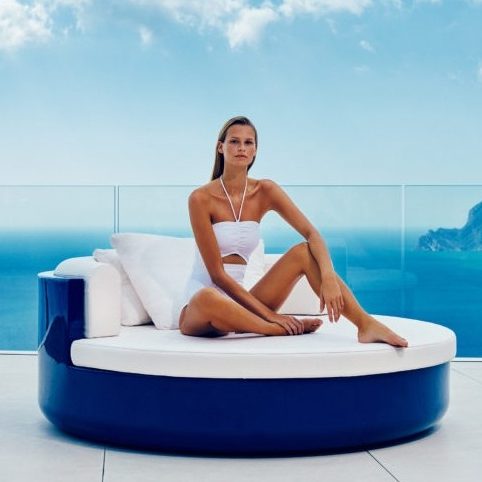 You can choose the round bed that best suits your terrace and/or poolside.
Double garden bed
You can also opt for a double garden bed. It allows two people to enjoy the sun together. Ideal for a couple, a family, or friends who want to enjoy a relaxing moment together.
They can be simple or designer like the Frame Vineyard daybed with its design reminiscent of a teepee or tent.
It brings a relaxed and modern touch to the atmosphere of the environment, an air of holiday.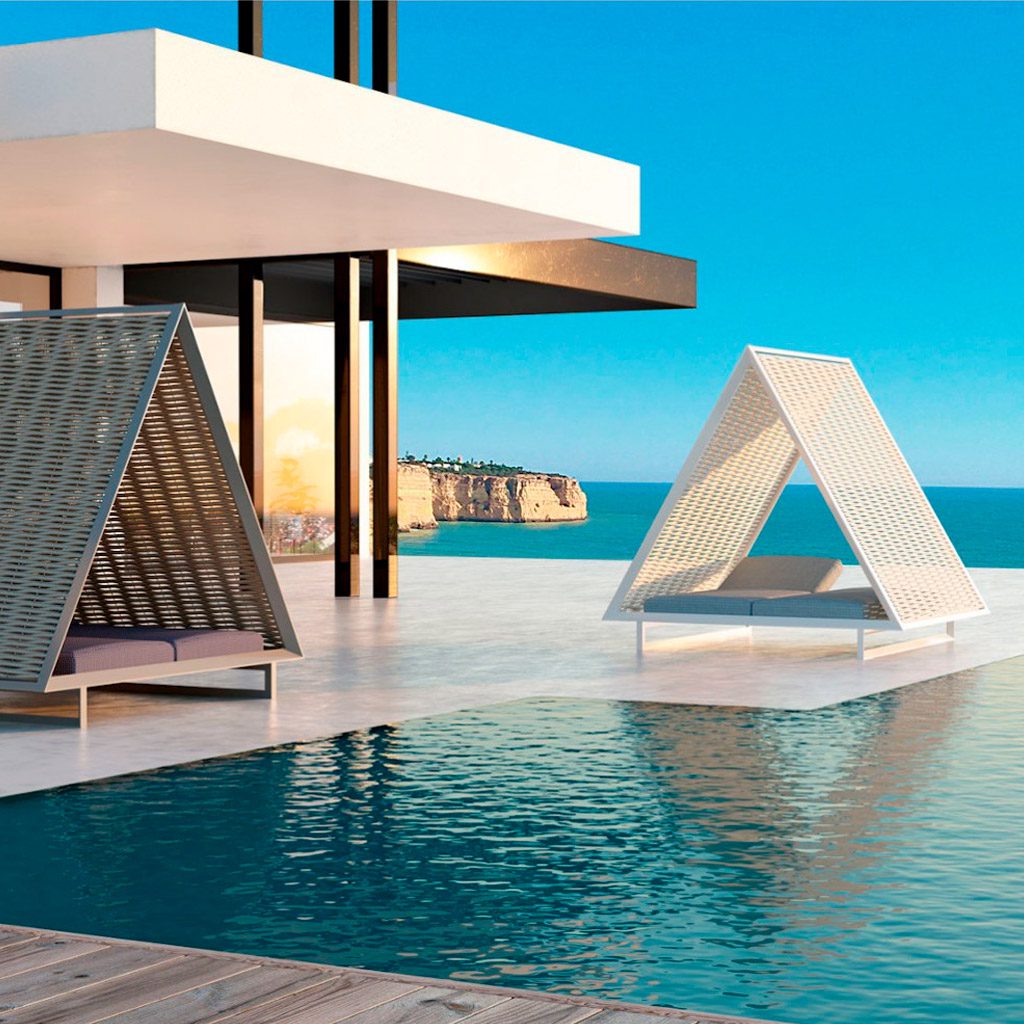 You can also find double canopy garden beds. Such as the canopy daybed with rattan look from Skyline Design.
Its rattan look brings a sense of communion and closeness to nature and blends in perfectly with the surrounding environment.
Thanks to its luxurious white drape, it provides protection from the light and a minimum of privacy.
Garden bed parasol
What if the garden bed had an integrated parasol?
A garden bed with an integrated sunshade is a fold-out bed that will protect your guests from the sun's rays when sunbathing.
Garden beds with an integrated sunshade are perfect for optimal comfort.
VONDOM offers garden beds with integrated sunshade.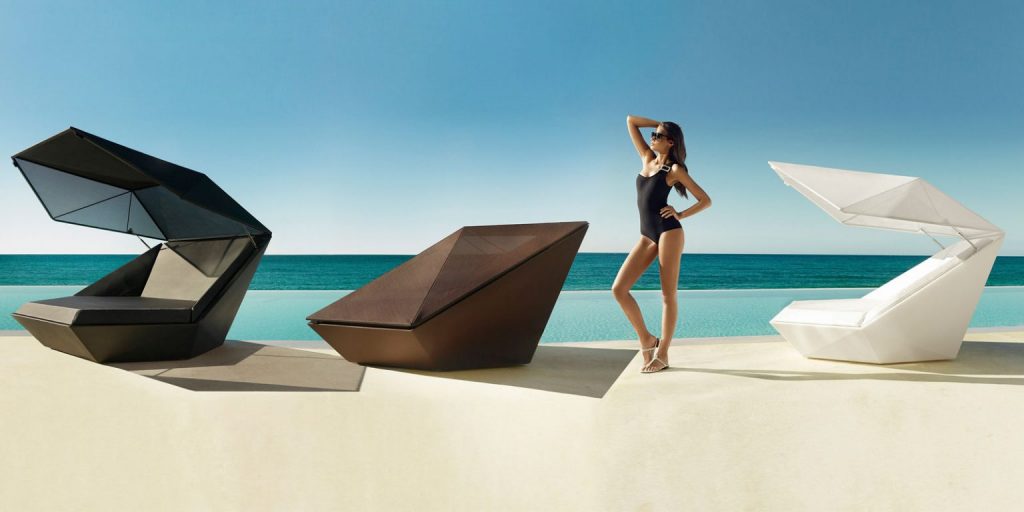 The FAZ garden bed is as protective as it is comfortable, thanks to its integrated sunshade, and will protect your guests from UV rays.
With its design reminiscent of a precious stone, it will bring an elegant and sophisticated touch to your outdoor decoration.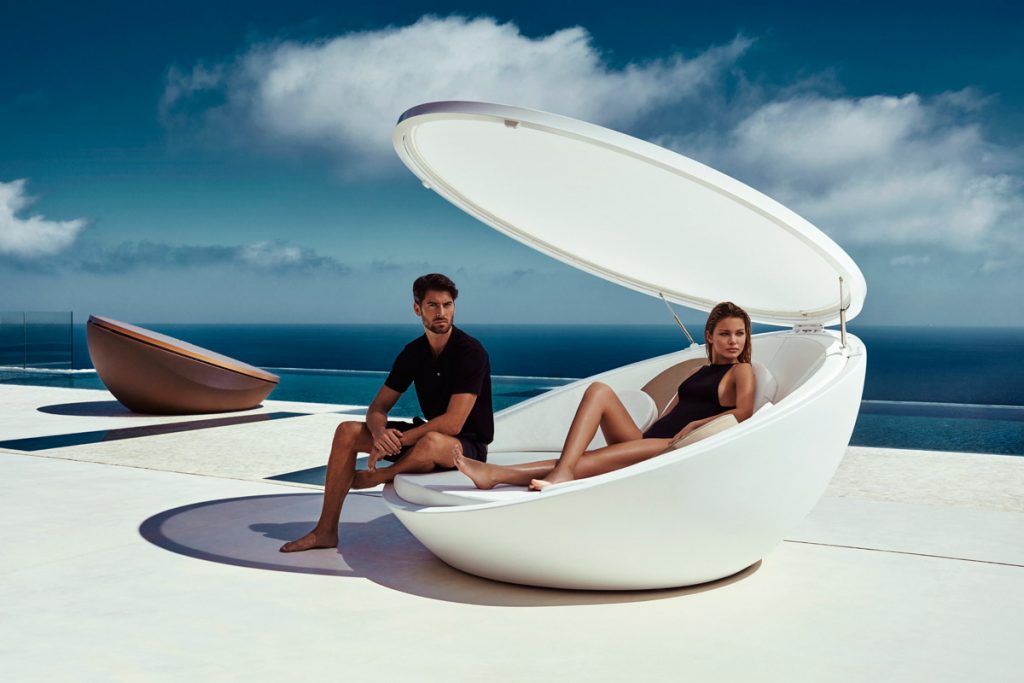 VONDOM also offers the ULM daybed cocoon parasol. This one is just as elegant and modern with its shell-like design.
Garden beds are very popular when the first rays of sunshine arrive. They allow you to relax comfortably in the sun while enjoying a unique moment. Please have a look at our catalogue.