Discount for professionals
Delivery around the world
Best prices
Order tracking

En
BLOW Pot 120 - XXL Outdoor Garden Polyethylene Jar with Matt Finish - Vondom
Product details
Vondom, a brand specialized in Outdoor Furniture for Professionals, manufactured the Blow Pot 120 XXL Outdoor Planter in Spain. It was created by the talented Designers Elisa Gargan and Stefano Giovannoni.

This Giant Jar impresses by its size. Enhance your plants or trees with this stylish Planter. Ideal for a Terrace, a Park, a Garden, or a Winter Garden, a veranda, an entrance hall, etc.
Dimensions of the Vondom Giant Blow Pot 120 in matt version: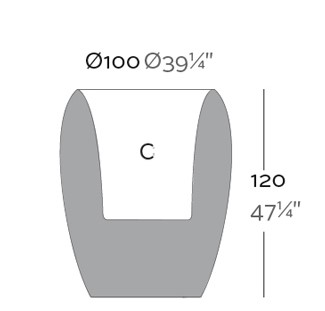 This Design Pot has a double wall made of very strong Polyethylene. It is UV resistant with a UV8 factor, equivalent to 8000 hours of sunshine in Florida; also to temperature variations (to -60ºC and + 80ºC!). It also resists impacts, scratches and bad weather. In addition, it is easy to clean with a simple damp sponge.

The Giant Outdoor Plant Jar Blow Pot 75 is available in 15 matt colors:

You may add (optional) a self-watering system providing the plant a water tank that gives water whenever the plant needs it. This mechanism has an indicator that alerts you when the plant needs to be watered. Please note that with this self-watering system, the Blow Planter is not recommended for outdoor use. In fact, due to the drainage, the indicator will not work properly.
More information about the self-watering system: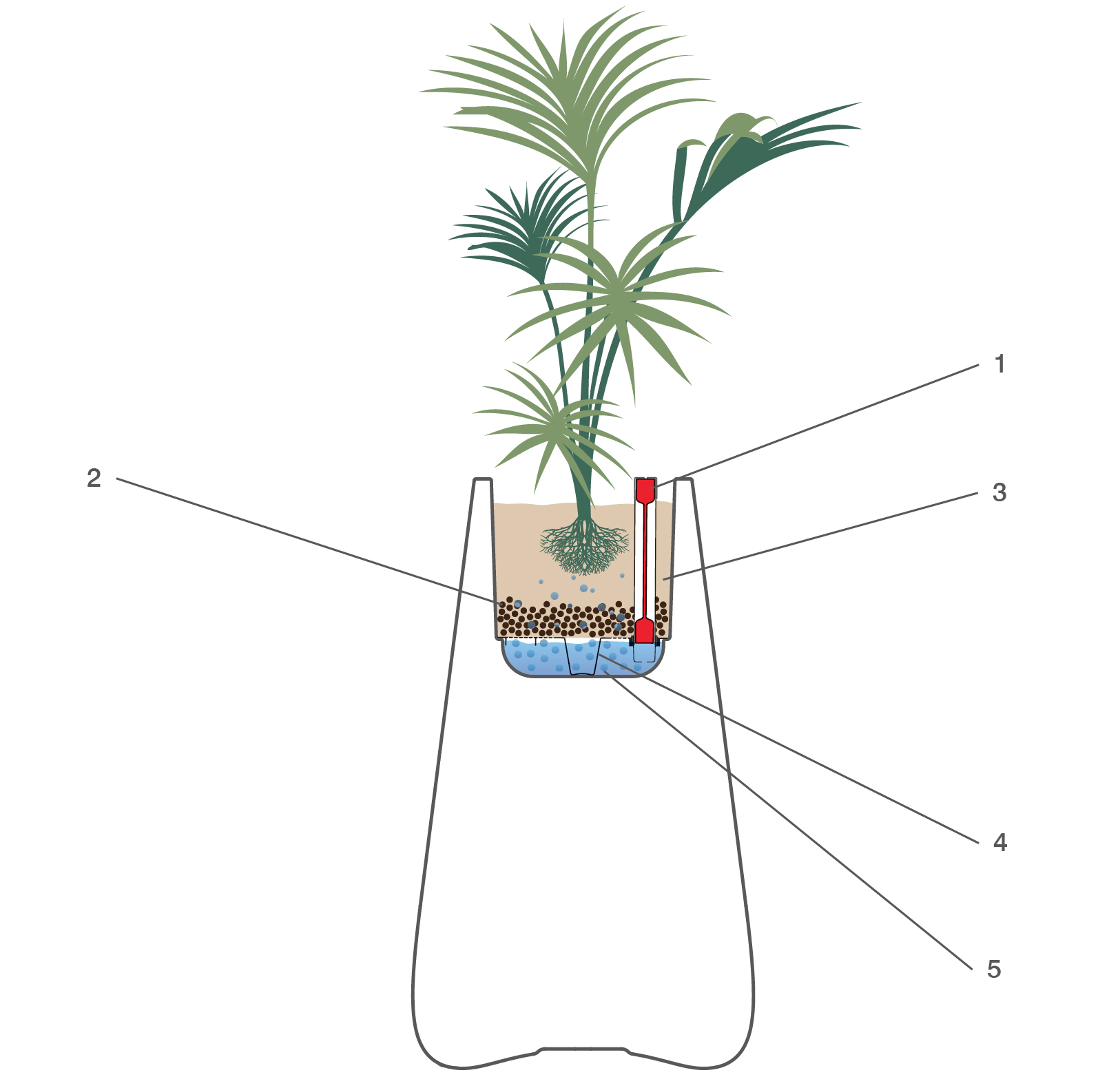 Water tank level indicator, verifiable at any time
Expanded clay works as drainage. This will prevent stagnation, control water flow & assure root aeration
Vegetal soil
Self-watering base where the plant absorbs the water
Water tank
For outdoor use, please take off the stopper of drainage (Light and Led finishes) and drill the holes at the indicated mark, bearing in mind the position of the water tank. Also drill the holes in the base of the flower pot, so that if it rains, the water overflow will evacuate and not harm the plant.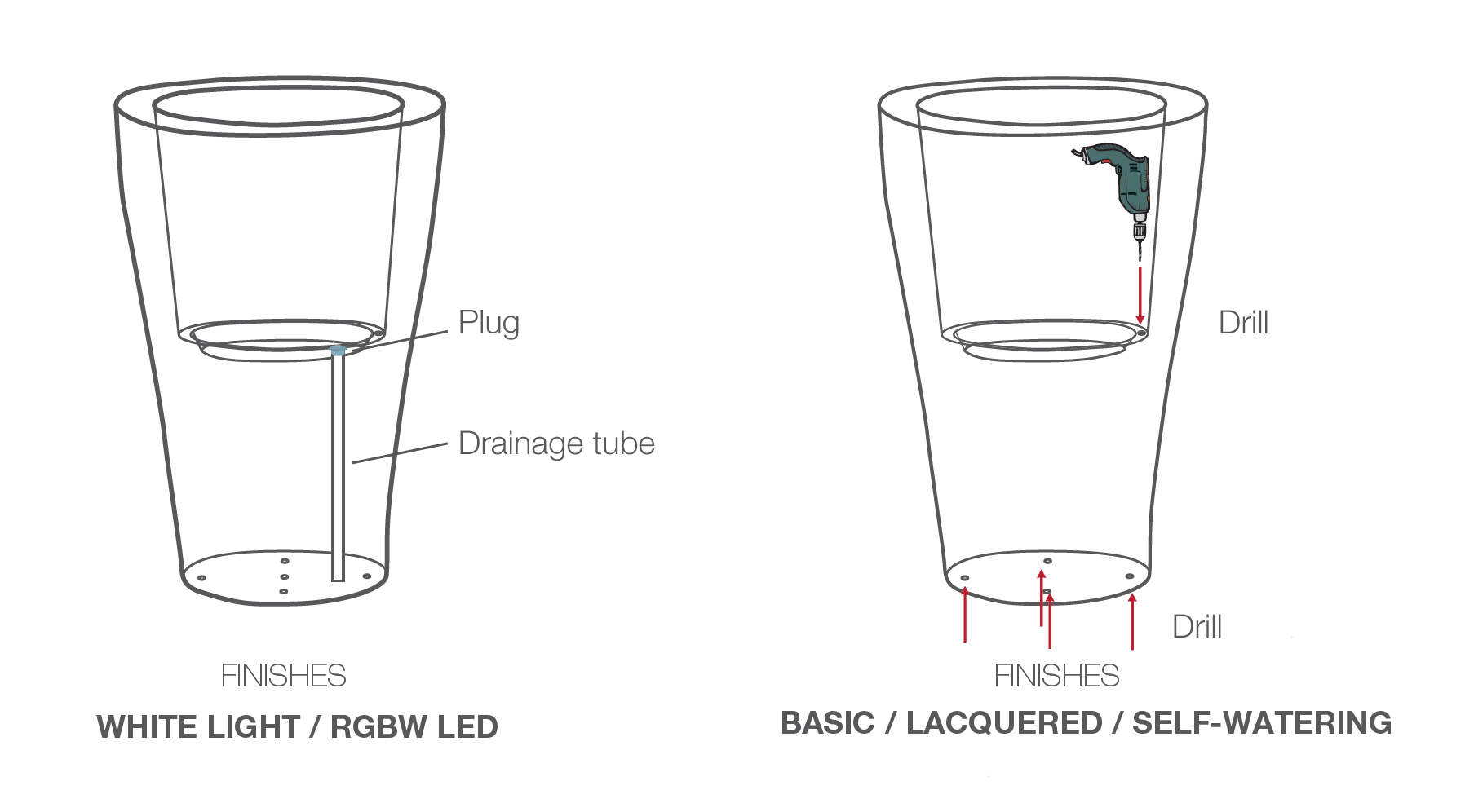 Other versions of the Blow Polyethylene Outdoor Plant Pot are available: different sizes, with self-irrigation system, in lacquered polyethylene, in white or multicolor light versions, etc. Discover all Blow Collection.
General
Brand

Vondom

Reference

55020A

Condition

New
Features
Material

Polyethylene

Version

Matt

Use

Indoor & Outdoor

Designer

Stefano Giovannoni, Elisa Gargan

Dimensions

100 x 100 x 120 cm

Weight

36 Kg

Width

104 L

Brand

Vondom

Made in

Spain

Guarantee (year)

1

Collection

Blow
Customer reviews
No customer reviews for the moment.
16 other products in the same category: